WECO ULTRA-300 Whole House Reverse Osmosis Filtration System | Up To 4 Baths
Whole house reverse osmosis water filtration system removes sediment, chlorine, chloramine, nitrate, sodium, heavy metals, TDS, chromium, fluoride, mercury, radon, benzene, lead and more contaminants.
Water pressure sensors and booster pumps keep filtration system functioning at maximum capacity produces 2000 gallons per day.
300 Gallon atmospheric water storage tank (blue) with 16" vented manway. (36" diameter x 81" height) with water recirculating ozone disinfection unit installed.
Auxiliary relays, float control units and RO controller provide automated equipment control with no user input requirements.
Note: RO produces waste water. Not recommended for city water because of high water waste, storage space and maintenance requirements. Only recommended for problematic well water. Contact WECO Filters with your water report for a free consultation.
Operating limits: Hardness < 7 grains, 85°F maximum water temperature, inlet pressure 30-80 PSI, incoming TDS 1000 ppm, Hydrogen sulfide, iron and manganese must be removed. Silica < 50 ppm, Turbidity must be removed. pH 3-11. Consultation and free pre-treatment equipment estimates available for out of spec water chemistry.
Water pressure booster pump with intelligent controls provides perfect water pressure for light commercial applications, water stores and houses with up to 3 floors and 8 taps.
Made to order. Contact us for lead time.
Whole House Reverse Osmosis System
Whole house reverse osmosis filter uses four stages of water filtration to create pure drinking water, ideal for residential use, medical offices, laboratories, schools, aquariums and hydroponic growing operations. The process starts by removing tiny particles like rust, silt, and insect parts. This protects your family and prevents the filtration systems from clogging. Next, the water flows through two 5-micron activated carbon block cartridges. These compressed carbon block filters remove taste and odor-causing chemicals like chlorine, chloramine and rotten-egg odors. Chlorine disinfection process can create cancer-causing byproducts in the water. These carcinogens, called THMs, are removed by the carbon filters. The carbon cartridges also remove organic contaminants like herbicides, insecticides and industrial chemicals that seep into groundwater. The next step involves the reverse osmosis (RO) process. Here water is "squeezed" through a special membrane. Heavy metals, like lead and mercury, are removed while purified water passes through. The RO process also removes salts, fluoride, radon, and benzene. The HydroSense makes refreshing water the whole family will enjoy. Automatic electric booster pumps with pressure sensors keep the system operating in optimal condition. Hydrosense filtration system is pre-assembled can be installed with simple hand tools. We recommend installation by a licensed plumber to ensure adherence to all local codes. Routine replacement of the filter cartridges is recommended to maintain filter performance.
Depending upon your specific water chemistry, you may need RO pre-treatment. Please consult with one of our WQA certified water specialists if your TDS levels exceed 1000 ppm, have hard water or iron staining issues or high silica content in water.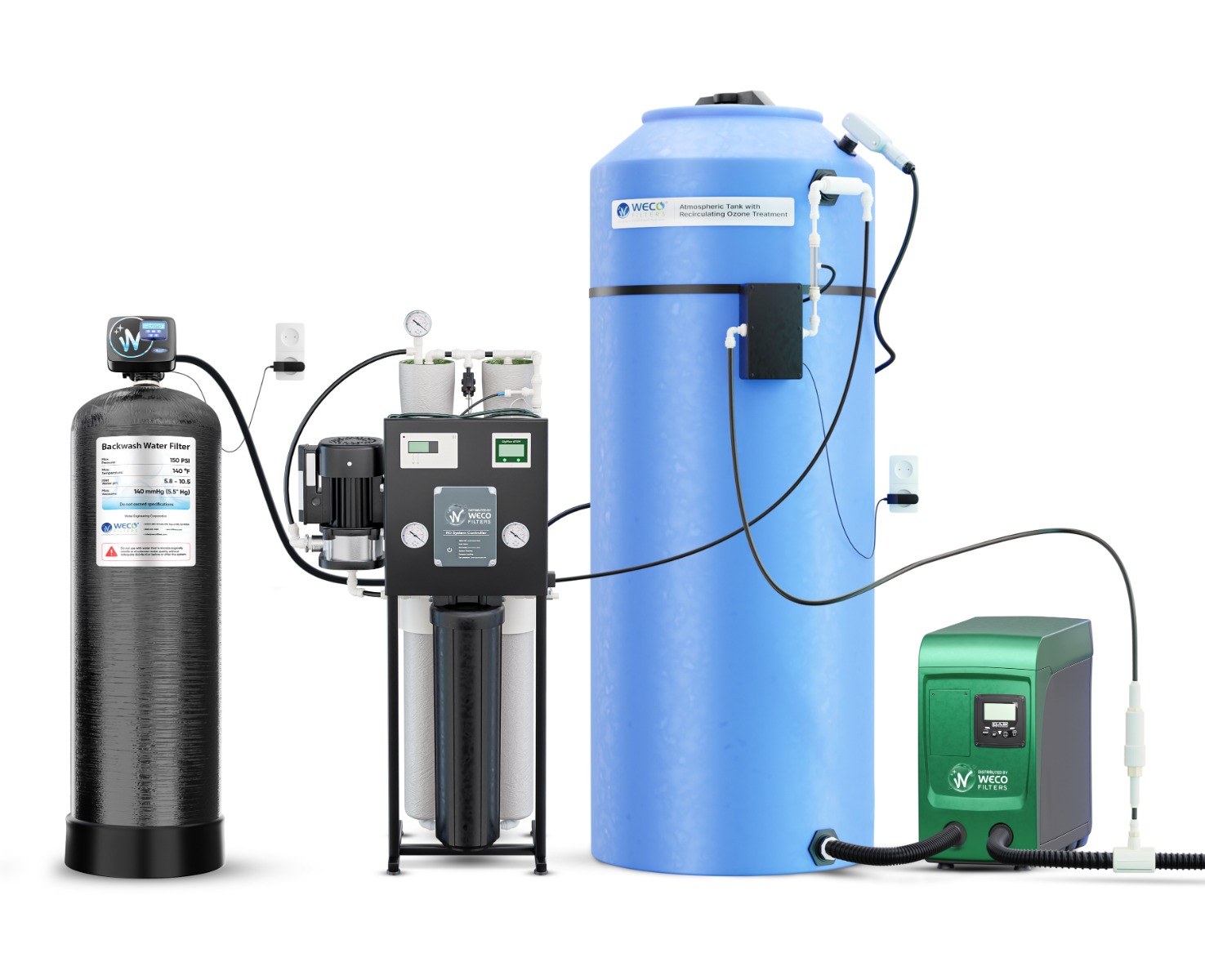 Automated Pump for Perfect House Water Pressure
Fully integrated water booster pump delivering perfect water pressure to all taps. It features pump, motor, tank, sensor, drive and non-return valve in one compact unit that installs quickly and easily.
With its intelligent pump control, the booster pump adjusts performance to any demand – and offers one of the lowest noise levels in its class. The result is maximum comfort with minimum effort.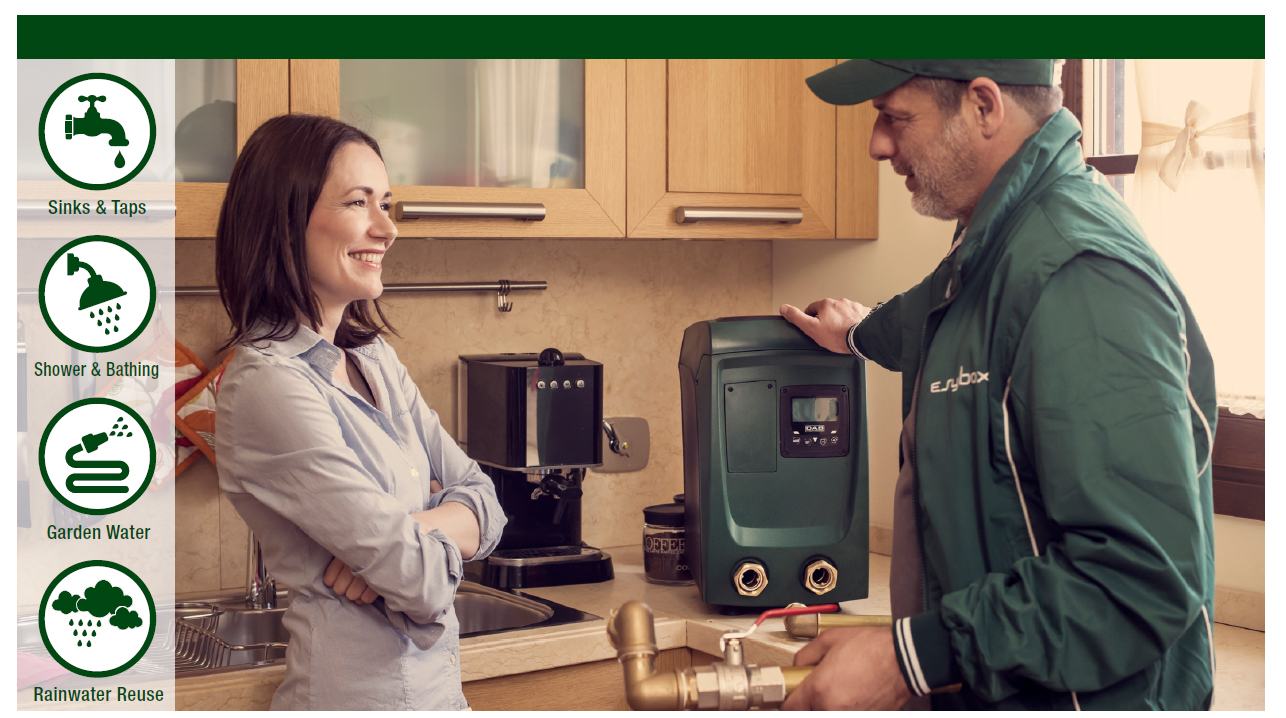 Standard Features
Membrane Elements
Membrane Housings
Filter Cartridge
Filter Housings
Flow Control
Brackets and Clips
RO Specifications
Model
System Capacity
Membrane Elements
Standard Recovery
Nominal TDS Rejection
Dimensions L x W x H in (cm)
Shipping Weight lbs (kg)
GPD
LPD
Size
Quantity
XWH-2000
2,000
7,571
4040
2
50%
98.5%
12 x 15 x 34(31 x 38 x 86)
70 (32)
Atmospheric Storage Tank Specifications
| Model | Capacity | Inlet Connection | Outlet Connection | Manway | Width | Height | Empty Weight |
| --- | --- | --- | --- | --- | --- | --- | --- |
| 61-TKT03U | 300 Gallons | 1½" Bulkhead NPT | 2" Bulkhead NPT | 16" | 36" | 81" | 80 lbs. |
Pump Specifications
| Model | P1 Max | Q Max | H Max | Dimensions |
| --- | --- | --- | --- | --- |
| DAB Esybox mini 3 | 1 hp (850 W) | 22 gpm | 79 psi | 17 ½ x10 ½ x9 ½ " |
More Information

| | |
| --- | --- |
| UPC | 670087221720 |