WECO TINY-50 Compact Undersink Reverse Osmosis Water Filtration System
Complete four-stage 50 gallon per day reverse osmosis water purification system for home or office installations.
Ultra-small footprint allows installation just about anywhere - undercounter, bathroom, RV, boat.
5-micron polypropylene pre-filter removes sediment, rust particles, sand and other microscopic debris that can contaminate the water supply.
5-micron solid-block activated carbon block cartridge eliminates chlorine, chloramine, bad tastes and odors, chemicals and carcinogenic disinfection byproducts.
Ultra-efficient 1:1 Thin Film Composite (TFC) reverse osmosis membrane removes up to 99% of water contaminants like cadmium, lead, nitrate, fluoride and mercury, even in high TDS water.
Granular activated post-filter scavenges any trace of taste and odor-causing compounds and gasses for great-tasting, refreshing water.
Encapsulated RO membrane system makes filter maintenance quick and easy.
Comes complete with a designer purified water dispensing faucet.
Installation is an easy Do-It-Yourself project with simple hand tools.
Manufactured and tested in the USA.

Four-stage, 36-Gallon per day Reverse Osmosis Water Purification System
Good things do indeed come in small packages, as the WECO TINY reverse osmosis water purification system is significantly smaller than standard filters and still delivers all of the benefits of the larger models.
Not only does TINY waste less water than standard Reverse Osmosis (RO) filters, no electricity is required for operation. The WECO TINY is the ideal filter for the home, as well as anywhere else safe, fresh-tasting water is needed.
The WECO TINY filter uses separate and individual stages of water filtration to create pure and refreshing drinking water:
Stage 1
The process starts by pre-filtering the water through a 5-micron filter. Prefiltration removes tiny particles that can get into the water supply. These include iron oxide (rust), silt, sand grains, and even insect biomatter. This stage prevents the filtration system from clogging, and more importantly, protects your family from drinking sediment. Best of all, no need to guess when the filter is full; the pre-filter housing is transparent, making it easy for you to see when the unit needs to be replaced. Remember that these filter cartridges are half the size of most RO filter unit components, making the unit compact and powerful.
Stage 2
The water flows through a 5-micron, activated carbon block cartridge. This compressed filter removes taste and odor-causing chemicals like hydrogen sulfide, eliminating that rotten egg smell and musky odors. Another important example is chlorine. The traditional chlorine disinfection process is known to create cancer-causing byproducts in the water. These carcinogens, called THMs, are removed by the activated carbon block filter. The cartridge also removes organic contaminants like herbicides, insecticides, and industrial chemicals that seep into groundwater.
Stage 3
The next filtration stage involves the reverse osmosis (RO) process. Tap water is forced through a special Thin Film Composite (TFC), semi-permeable membrane. Heavy metals, like lead, cadmium and mercury, are removed as the purified water passes through. The RO process also removes salts, nitrate, fluoride, radon, and benzene. The encapsulated RO membrane features outstanding water efficiency. Other RO filters can waste up to 10 gallons of water for every gallon of purified water. The WECO high-performance RO membrane produces only one gallon of waste water for each gallon of purified water! This saves you money, reduces waste water, conserves resources, and helps the environment. In addition, the housing makes it easy to replace the membrane when the need arises. No more complicated disassembly of the filtration system, no more leaks, and no tools required.
Stage 4
Lastly, the water flows through a Granular Activated Carbon (GAC), in-line post filter. This acts as a polishing filter, removing any traces of tastes, odors or gasses. The end result is crystal clear, fresh-tasting drinking water.
The WECO RO filtration system also includes a pressurized water storage tank and a brushed nickel designer faucet for dispensing the purified water. Both the storage tank and the faucet are also compact, further increasing the versatility of the TINY system. The faucets look attractive, fit in with any decor, and are certified lead-free to protect you, your family, and pets. As the filtration system makes purified water, it fills the storage tank. The storage tank sends purified water to the faucet. Your regular sink faucet will still provide unfiltered water for washing dishes and cleaning.
The WECO faucet provides only purified water for drinking, cooking, washing vegetables, and for pets. You'll notice an immediate improvement in the taste of coffee, tea, iced drinks, fitness and sports drinks, and more! Even better than the taste is the peace of mind that you will have for you and those in your home.
The WECO filtration system is pre-assembled and can be installed with simple hand tools. Its ultra-small footprint allows installation just about anywhere - under-the-counter, bathroom, RV, boat. anywhere with sufficient water pressure.
Delivers Great Tasting, High-Quality, Purified H20 at Home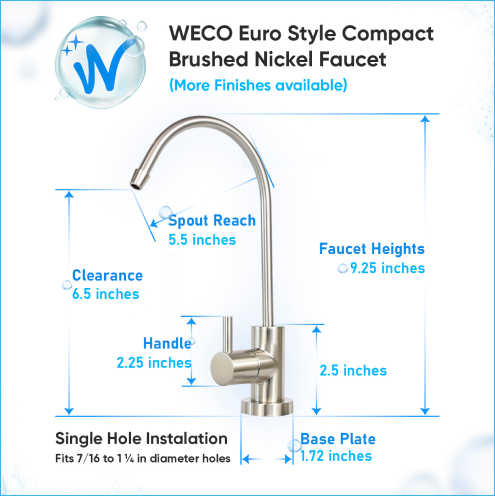 Compact and Stylish Nickel Faucet for Purified Water
The brushed nickel finish is stylish, and the certified lead-fee faucet provides protection and peace of mind.
The European design compliments most countertops.
The non air-gap style provides easy, single-hole countertop installation.
360-degree free swivel gives you the flexibility of placement and function, so you can fit this compact faucet anywhere!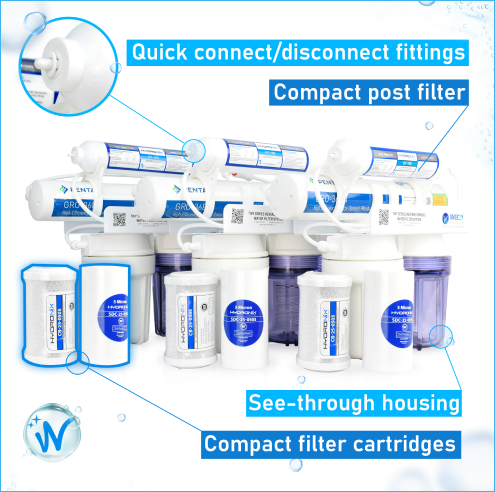 Fit it Anywhere: Ultra-Small Footprint
Compact pre and post filter cartridges make this unit half the size of traditional RO filters.
Quick connect and disconnect fittings allow easy, leak-free installation.
The transparent initial filter stage takes the guessing out of replacement.
Prevent Leaks and backflow with the automatic water shutoff valve. This stops drain flow when the storage tank is full.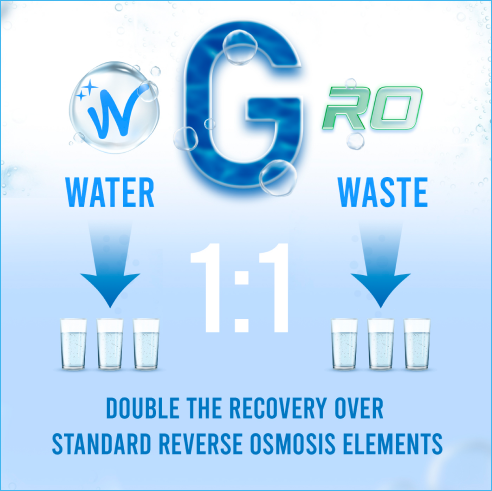 Save Water and Money with GRO Membrane Technology
The GRO membrane technology minimizes waste water, offering double the recovery over standard RO systems.
The encapsulated membrane with quick connect fittings allows faster installation and replacement.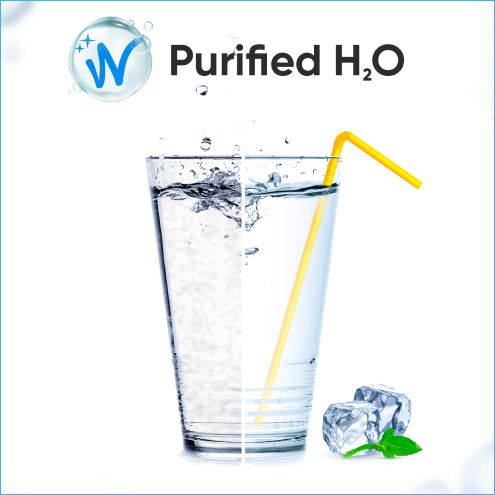 Crystal Clear, Purified Drinking Water
Multiple stages of filtration remove any traces of tastes, odors, or gasses, providing crystal clear, fresh-tasting drinking water.
The optional ice maker connection kit IM25EZ is not included.
Simple, Compact Design for Easy Placement, Installation, and Maintenance!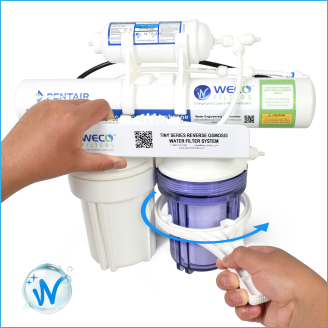 Half Size Pre-filters with Filter Wrench Included
These pre-filter cartridges are easy to replace and are half the size of standard RO systems.
The Filter wrench is included to make installation and replacement easy.
Step-by-step, detailed installation videos are available online.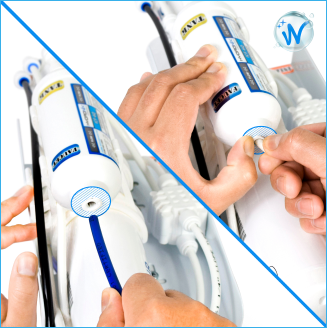 Pre-Assembled and Labeled
The system is pre-assembled and ready for quick installation under the sink.
All fittings are quick connect; simply push in the tubing for a secure, leak-free, and tight connection.
Components are clearly labeled.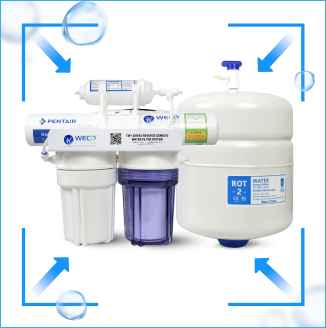 All Components are Compact and Powerful
The ultra-small footprint allows installation just about anywhere - under the counter, in a bathroom, an RV, boat, or anywhere else safe, fresh-tasting drinking water is needed.
Total Dissolved Solids (TDS) Content in Water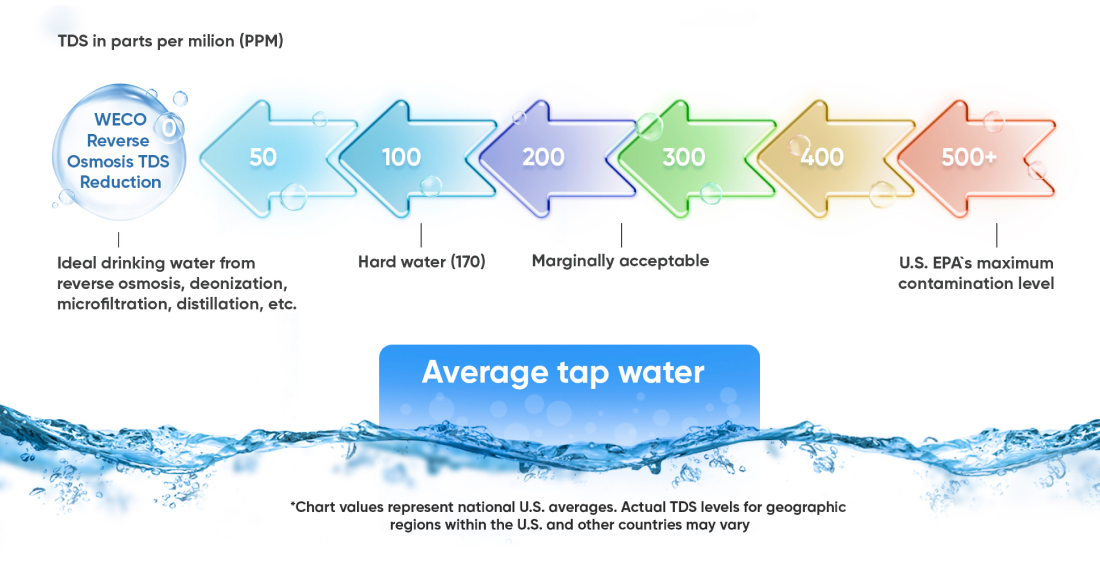 Why does TDS matter when it comes to water quality?
"TDS" stands for Total Dissolved Solids, which is a general measure of the amount of substances dissolved in lakes, streams and tap water. These "dissolved solids" include mostly inorganic salts like sodium, calcium, magnesium, potassium cations and chloride, bicarbonate, carbonate, phosphate, sulfate, and nitrate anions.
When water percolates through underground rock formations and soil, some of the natural minerals dissolve into the water. Depending on the amount and type of minerals in the rock and soil, the ground water could have very high or very low mineral content, or somewhere in between. Further, water treatment facilities sometimes add chemicals to prevent the water from being acidic or corrosive. The more substances dissolved in the water, the higher the TDS. This matters because the higher the TDS, the lower the purity of the water.
One the most useful functions of a TDS meter is the ability to check on the status of your WECO reverse osmosis (RO) filter. WECO RO filters lower the TDS by removing the minerals, salts, and contaminants from the water, increasing the water purity. The numbers don't lie, and a TDS meter shows just how powerful the WECO TINY filter truly is.
Available Pressurized Storage Tanks

Tank Specifications
Models
Total Capacity
≈ Usable Capacity
Diameter (in)
Height (in)
Connector Size
Color
Gal
Liter
Gal
Liter

ROT-1-W

1
3.8
0.6
2.3
6
9
¼" MNPT
White

ROT-2-W

2
7.6
1.2
4.5
6
12
¼" MNPT
White

ROT-3-W

3
11.4
1.8
6.8
9
16
¼" MNPT
White

ROT-4-W

4.5
17
2.8
10.6
11
16
¼" MNPT
White

ROT-6-W

6
22.7
3.6
13.6
12
17
¼" MNPT
White

ROT-10-W

10
37.9
6
22.7
12
22
¼" MNPT
White

ROT-14-W

14
52.9
8.4
31.7
16
25
¼" MNPT
White

ROT-14-B34

14
52.9
8.4
31.7
16
25
¾ " MNPT
Blue

ROT-20-B34

20
80
14
53
16
31
¾" MNPT
Blue
Contaminants Reduced from Activated Carbon and Reverse Osmosis Combined Filtration
| Chlorine | Magnesium | Silver | Radioactivity | Nitrate | Boron | Protozoa |
| --- | --- | --- | --- | --- | --- | --- |
| Chloramine | Potassium | Zinc | Chromium-6 | Fluoride | Arsenic (3+) | Ameobic |
| Color | Iron | Strontium | Chromium-3 | Phosphate | Arsenic (5+) | Cysts |
| Odor | Manganese | Cadmium | Lead | Chromate | Selenium | Turbidity |
| Sodium | Calcium | Nickel | Chloride | Cyanide | Barium | Asbestos |
| Aluminum | Copper | Mercury | Bicarbonate | Sulfate | Sediment | Bacteria and more… |
Technical Specifications
| | | | |
| --- | --- | --- | --- |
| Max. Filtered Water Flow | 0.75 GPM @ Full Tank | Feed Water Temperature | 40-100 °F |
| | 10 Grains @ 6.9 pH | | 1/4" Push to Connect |
| Max. TDS | 2000 PPM | Water Supply Connection | 3/8" or 1/2" NPT |
| | 4-11 | Replacement Pre & Post Filters | TINY-SET3 |
| Feed Water Pressure | 50-75 PSI | Complete Replacement Kit | TINY-SET4-50 |


TINY-36 Compact RO System

TINY-50 Compact RO System

TINY-150 Compact RO System

TINY-150UV Compact RO System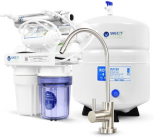 TINY-150UVALK Compact RO System
| | | | | | |
| --- | --- | --- | --- | --- | --- |
| Production (Gallons per Day) | 36 GPD | 50 GPD | 150 GPD | 150 GPD | 150 GPD |
| Standard Storage Tank Capacity | 2 Gal | 2 Gal | 3.2 Gal | 3.2 Gal | 3.2 Gal |
| GRO Water Saving Membrane Technology | | | | | |
| Alkaline Water | | | | | |
| UV Disinfection | | | | | |
| RO Dimensions | 15 x 5.5 x 9 in | 15 x 5.5 x 9 in | 13 x 5.5 x 9 in | 13 x 5.5 x 9 in | 13 x 5.5 x 9 in |
| Tank Dimensions | 8 x 8 x 12 in | 8 x 8 x 12 in | 11 x 11 x 16 in | 11 x 11 x 16 in | 11 x 11 x 16 in |
More Information

| | |
| --- | --- |
| UPC | 810388030762 |