WECO TINY-150 Compact Undersink Reverse Osmosis Water Filtration System
Complete four-stage 150 gallons per day reverse osmosis water purification system for home or office installations
Ultra-small footprint allows installation just about anywhere - undercounter, bathroom, RV, boat
30-micron polypropylene pre-filter removes sediment, rust particles, sand and other microscopic debris that can contaminate the water supply
5-micron solid-block activated carbon block cartridge eliminates chlorine, chloramine, bad tastes and odors, chemicals and carcinogenic disinfection byproducts.
Ultra-efficient 1:1 Thin Film Composite (TFC) reverse osmosis membrane removes up to 99% of water contaminants like cadmium, lead, nitrate, fluoride and mercury, even in high TDS water
Granular activated post-filter scavenges any trace of taste and odor-causing compounds and gasses for great-tasting, refreshing water
Comes with a 3.2 gallon water storage tank for a steady supply of purified water
Encapsulated RO membrane system makes filter maintenance quick and easy
Comes complete with a designer purified water dispensing faucet
Constructed with FDA and NSF certified materials to ensure drinking water purity and filter system reliability
Installation is an easy Do-It-Yourself project with simple hand tools
Manufactured and tested in the USA
Description
The WECO TINY reverse osmosis filtration system is the ideal water purification filter for home, office, health clubs, juice bars, coffee shops or anywhere safe, fresh-tasting water is needed. The WECO reverse osmosis system uses separate individual stages of water filtration to create pure, refreshing drinking water. The process starts by pre-filtering the water through a 30-micron Pentek R30-478 Pleated Polyester Sediment filter. Prefiltration removes tiny particles that can get into the water supply. These include iron oxide (rust), silt, sand grains and insect parts. This filtering stage protects your family from drinking sediment and prevents the filtration system from clogging. The sediment pre-filter is contained in a clear, see-through filter housing, making it easy for you to see when the filter needs to be replaced. No need to guess! For the 2nd stage, the water flows through a 5-micron Pentek C2 activated carbon block cartridge. This compressed activated carbon block filter removes taste and odor-causing chemicals like chlorine, chloramine and rotten-egg (hydrogen sulfide) and musty odors. The chlorine disinfection process is known to create cancer-causing byproducts in the water. These carcinogens, called THMs, are removed by the activated carbon block filter. The carbon cartridge also removes organic contaminants like herbicides, insecticides and industrial chemicals that seep into groundwater. But that's not all. The next filtration stage involves the reverse osmosis (RO) process. Tap water is "squeezed" through a special Thin Film Composite (TFC) semi-permeable membrane. Heavy metals, like lead, cadmium and mercury, are removed while purified water passes through. The RO process also removes salts, nitrate, fluoride, radon and benzene. The WECO encapsulated reverse osmosis membrane is NSF-certified and features outstanding efficiency. Other reverse osmosis filters can waste up to 10 gallons of water for every gallon of pure water made. The WECO high-performance RO membrane produces only four gallon of waste water for each gallon of purified water. This saves you money, reduces waste water, conserves resources and helps the environment. The encapsulated membrane housing makes it easy to replace the membrane when the need arises. No more complicated disassembly of the filtration system, no more leaks and no tools are necessary. For the final stage of purification the water flows through an NSF-42 certified Pentek GS-6RO granular activated carbon (GAC) in-line post filter. This acts as a polishing filter, removing any traces of tastes, odors or gasses, for crystal clear, sparkling drinking water.
The WECO reverse osmosis filtration system also includes a pressurized water storage tank and a brushed nickel designer faucet for dispensing the purified water. WECO reverse osmosis systems use NSF-certified (Standard 61, Section 9) lead-free dispensing faucets. The faucets look attractive, fit into any decor and are certified lead-free to protect you, your family and pets. As the filtration system makes purified water, it fills the storage tank (up to 3 gallons at a time). The storage tank sends purified water to the designer faucet. Your regular sink faucet will provide unfiltered water for washing dishes and cleaning. The designer faucet provides only purified water for drinking, cooking, washing vegetables and pets. You'll notice an immediate improvement in the taste of coffee, tea, iced drinks, fitness and sports drinks and more!
The WECO filtration system is pre-assembled can be installed with simple hand tools. We recommend installation by a licensed plumber to insure adherence to all local codes. Routine replacement of the filter cartridges is recommended to maintain filter performance. Replacement cartridges are available from WECO.
Applications
Under-counter in kitchens or bathrooms
Office break rooms
Health clubs, coffee shops, yoga studios
Vacation homes, condominiums, cabins, RVs
Lead, fluoride, radon and nitrate concerns
Ideal for anyone health-conscious and concerned about drinking water quality
Filter Cartridges

30-micron polypropylene pre-filter removes sediment, rust particles, sand and other microscopic debris that can contaminate the water supply.

C2 5-micron solid-block activated carbon block cartridge eliminates chlorine, chloramine, bad tastes and odors, chemicals and carcinogenic disinfection byproducts.

High-efficient Encapsulated Thin Film Composite (TFC) reverse osmosis membrane removes up to 99% of water contaminants like cadmium, lead, nitrate, fluoride and mercury, even in high TDS water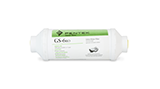 GS-6RO Granular activated post-filter scavenges any trace of taste and odor-causing compounds and gasses for great-tasting, refreshing water
Installation
Water Supply Connection uses metPure Universal EZ RO Adapter that fits both 1/2" and 3/8" supply stops.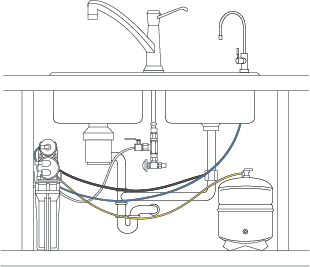 Use the color coded tubing to make the following connections:
The

WHITE

tubing connects the water supply adapter to the inlet side.
The

BLUE

tubing connects the faucet to the outlet side.
The

BLACK

tubing connects to the drain clamps.
The

YELLOW

tubing connects the storage tank to the inlet side of the postcarbon.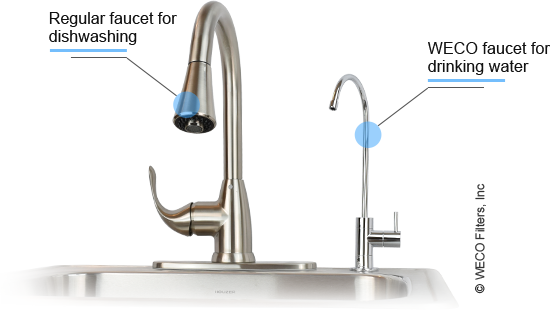 Contaminants Removed

Sediment Filter - Up to 99% sediment and particulates (5 microns and higher)
Carbon Filter - Up to 99% of chlorine, radon and volatile organic compounds
Thin Film Composite Membrane
| | |
| --- | --- |
| Sodium | 90-95% |
| Aluminum | 93-98% |
| Magnesium | 93-98% |
| Potassium | 90-95% |
| Iron 2 | 93-98% |
| Manganese 2 | 93-98% |
| Calcium | 93-98% |
| Copper | 94-99% |
| Silver | 93-98% |
| Zinc | 93-98% |
| Strontium | 93-98% |
| Cadmium | 93-98% |
| Nickel | 93-98% |
| Mercury | 93-98% |
| Radioactivity | 93-98% |
| Chromium-6 | 94-99% |
| Chromium-3 | 94-99% |
| Lead | 94-99% |
| Chloride | 90-95% |
| Bicarbonate | 90-95% |
| Nitrate3 | 85-90% |
| | |
| --- | --- |
| Fluoride | 90-97% |
| Phosphate | 93-98% |
| Chromate | 90-95% |
| Cyanide | 90-95% |
| Sulfate | 93-98% |
| Boron | 55-60% |
| Arsenic + 3 | 70-80% |
| Arsenic + 5 | 94-99% |
| Selenium | 93-98% |
| Barium | 93-98% |
| Sediment | > 99% |
| Protozoa | > 99% |
| Ameobic- | > 99% |
| Cysts | > 99% |
| Turbidity | > 99% |
| Asbestos | > 99% |
| Bacteria | > 99% |
| Giardia | > 99% |
| | |
| | |
| | |
* Source: water quality association, www.wqa.org
** 60 psi net pressure and 77° F water temperature
*** Performance depends on condition of feed water
Granular Activated Carbon Filter - 99% of chlorine, dissolved gasses, volatile organic compounds,
Specifications & Operating Limits
Max. Filtered Water Flow (gpm)
0.75
Max. Hardness
10 Grains @ 6.9 pH
Max. TDS (ppm)
2000
Automatic Shut-Off
Yes
Filter Life

3 Months or 450 gallons for pre-filters

12 Months or 1500 gallons for post filter

24 Months for membrane

Feed Water pH Limits
4-10
Feed Water Pressure (psi)
40 Min - 125 Max.
Feed Water Temperature
40-100 °F
Fittings
1/4" - Push to Connect
Plumbing Connections
1/4" Inlet – 1/4" Outlet
Water Inlet Valve
1/2" & 3/8" NPT ball valve adaptor
Capacity
Filtered Water Output
150 gal/day
Storage Tank Capacity (gals.)
3.2* (*Theoretical tank capacity. When tested according to NSF/ANSI 58 at 50 PSIG inlet pressure, tank capacity is 2.3 gallons)
Pre/Post Filter Life
450 Gallons
Appearance
Color Appearance
White
Faucet Color
Brushed Nickel
Filter Housing
White/Clear
Installation
Undercounter Kit Included
Unit Color
White
System Mounting Orientation
Floor Standing or Wall Mount
Weights & Dimensions
Overall Depth
5.5 in
Overall Height
9.0 in
Overall Width
12.0 in
Tank Dimensions (H X W X D)
16 x 11 x 11 in (smaller tanks available on request)
Approximate Shipping Weight
23.0 lb
Net Weight
21.0 lb
Accessories
Icemaker Connection Kit
IM25EZ (Available at Additional Cost)
Installation Kit
Included
Replacement Filters
TINY-SET4-150 (Pre, Post & Membrane)
Replacement Membrane
T300-150-OMNI
Warranty
Parts Warranty
Limited 1-year
Filter
App Filter - Product Type
Filtration Reverse Osmosis

More Information

| | |
| --- | --- |
| UPC | 810388030779 |