WECO ECON-300P Economy Booster Pump Kit for Reverse Osmosis (RO) / DI Water Filters -up to 300 Gallons Per Day

Economy pump and accessories. Correct low pressure problems or increase production of your existing reverse osmosis water filter system and maintain proper water pressure for maximum pure water output.
Achieve higher total dissolves solids (TDS) rejection for maximum contaminant reduction.
3/8" Quick connect fittings on pump and 1/4" fittings on tank pressure sensor.
Tank pressure sensor included for automatic pump on/off control.
Includes 36 VDC 2.2 Amp pump and 110V power supply.
Up to 300 gallons per day.
Maximum outlet pressure 125 PSI.
Open flow 0.99 GPM (3.75 LPM).
Compatible with any drinking water Reverse Osmosis (RO) or RO/DI system for aquariums/labs with under 300 gallons per day production with 3/8" tubing.
WECO Economy RO/DI Pressure Booster Pump Kit
Well water supplies often suffer from low or inconsistent water pressure. Well pumps may not be able to maintain the proper water pressure (60+ PSI) required for an RO filtration system. Even some municipal water systems have unsuitable water pressure. If you live in an apartment or high-rise building your water pressure can fluctuate as water use increases throughout the facility. This may cause your reverse osmosis filter system to stop working or work very poorly. If the water pressure is below 30 PSI, the RO system will divert more water to drain than is necessary. The water purity of the filtered water can also decline because the reverse osmosis membrane cannot function properly.
The WECO Booster Pump kit can be used to correct a low-pressure condition or replace a broken booster pump. The booster pump retrofit kit is a direct fit replacement for all undersink reverse osmosis filter systems. The WECO Booster Pump uses a safe low-voltage transformer to provide electric power to the pump. The booster pump increases the incoming water pressure to the ideal 60 PSI. This water pressure level maximizes the number of gallons produced per day while minimizing the amount of wastewater sent to the drain.
Easy Plumbing & Wiring Diagram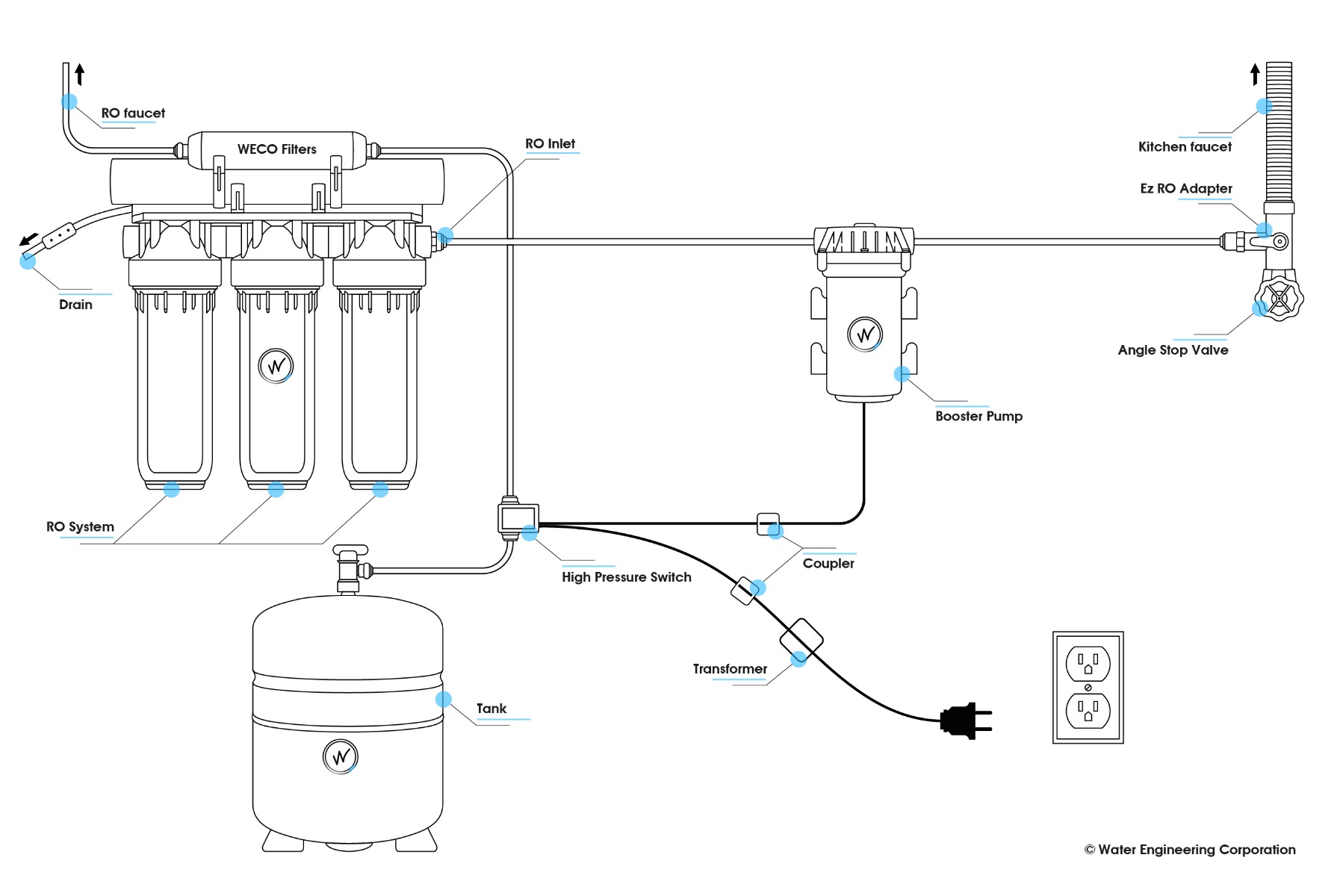 Standard Features
Connection
Pump Design
Power
Operating Limits
Specifications
Models
Total Capacity
Pump Dimensions (in)
Volts
Amps
Connector Size
Open Flow
GPD
LPD
ECON-50P
50
189
4 x 5 x 7
24
1.2
¼"
0.30 GPM (1.2 LPM)
ECON-100P
100
379
4 x 5.25 x 7.25
24
1.5
¼"
0.48 GPM (1.8 LPM)
ECON-300P
300
1,136
4 x 5.25 x 7.5
36
2.2
⅜"
0.99 GPM (3.75 LPM)
More Information

| | |
| --- | --- |
| UPC | 719284871519 |