WECO CLARA-300PMP Light Commercial Reverse Osmosis Water Filter System
Be the first to review this product
Light commercial reverse osmosis (RO) system - 300 gallons per day (GPD) production @ 77°F.*
Reduces lead, chromium, fluoride, chlorine, nitrate, tds, mercury, sodium and more contaminants.
Fixed drain flow restrictor with flush valve for optimum membrane life.
Automated water pressure sensors and booster pump keep system functioning at maximum capacity.
Pressure gauge for drain pressure monitoring. Floor or wall mountable. Space saving design.
Description
WECO CLARA series light commercial reverse osmosis system filters your drinking water, rejecting unwanted contaminants like lead, sodium, mercury, nitrate, chlorine, chloramine, chromium, tds and more. Filtered water is ideal for kitchen, whole house reverse osmosis, medical offices, laboratories, schools, aquariums and hydroponic growing operations. The CLARA filtration process starts by removing tiny particles like rust, silt, and insect parts. This protects your family and prevents the filtration systems from clogging. Next, the water flows through two activated carbon block cartridges. These compressed carbon block filters remove taste and odor-causing chemicals like chlorine, chloramine and rotten-egg odors. Chlorine disinfection process can create cancer-causing byproducts in the water. These carcinogens, called THMs, are removed by the carbon filters. The carbon cartridges also remove organic contaminants like herbicides, insecticides and industrial chemicals that seep into groundwater. The next step involves the reverse osmosis (RO) process. Here water is "squeezed" through a special membrane. Heavy metals, like lead and mercury, are removed while purified water passes through. The RO process also removes salts, fluoride, radon, and benzene. Automatic dual 36V electric booster pumps with pressure sensors keep the system operating in optimal condition. CLARA filtration system is pre-assembled and can be used on demand for high purity water applications. Combine the CLARA system with a pressure tank or an atmospheric tank plus our float conversion kit (part # FVKT-38) for high flow applications such as whole house RO, commercial kitchens, spot free rinsing or hydroponics.
Applications
Commercial/Industrial drinking water purification
Hydroponic plant growing operations, Greenhouses
Large Aquariums
Breweries
Whole house RO
Nursing homes, Health facilities
Ideal for anyone health-conscious and concerned about drinking water quality
CLARA Reverse Osmosis Systems
Specifications & Operating Limits
Max. Hardness
7 Grains @ 6.9 pH
Max. TDS (ppm)
1000
Automatic Shut-Off
Yes
Filter Life

6 Months or 20,000 gallons for pre-filters

24 Months for membranes

Feed Water pH Limits
4-11
Feed Water Pressure (psi)
40 Min - 80 Max.
Feed Water Temperature
50-105 °F
Fittings
3/8" - Push to Connect (Inlet/Outlet & Drain)
Capacity
Pre/Post Filter Life
20,000 Gallons
Appearance
Color Appearance
White
Filter Housing
White Slimline (2.5"D x 20")
Unit Color
White
System Mounting Orientation
Floor Standing
Weights & Dimensions
Approximate Shipping Weight
100.0 lb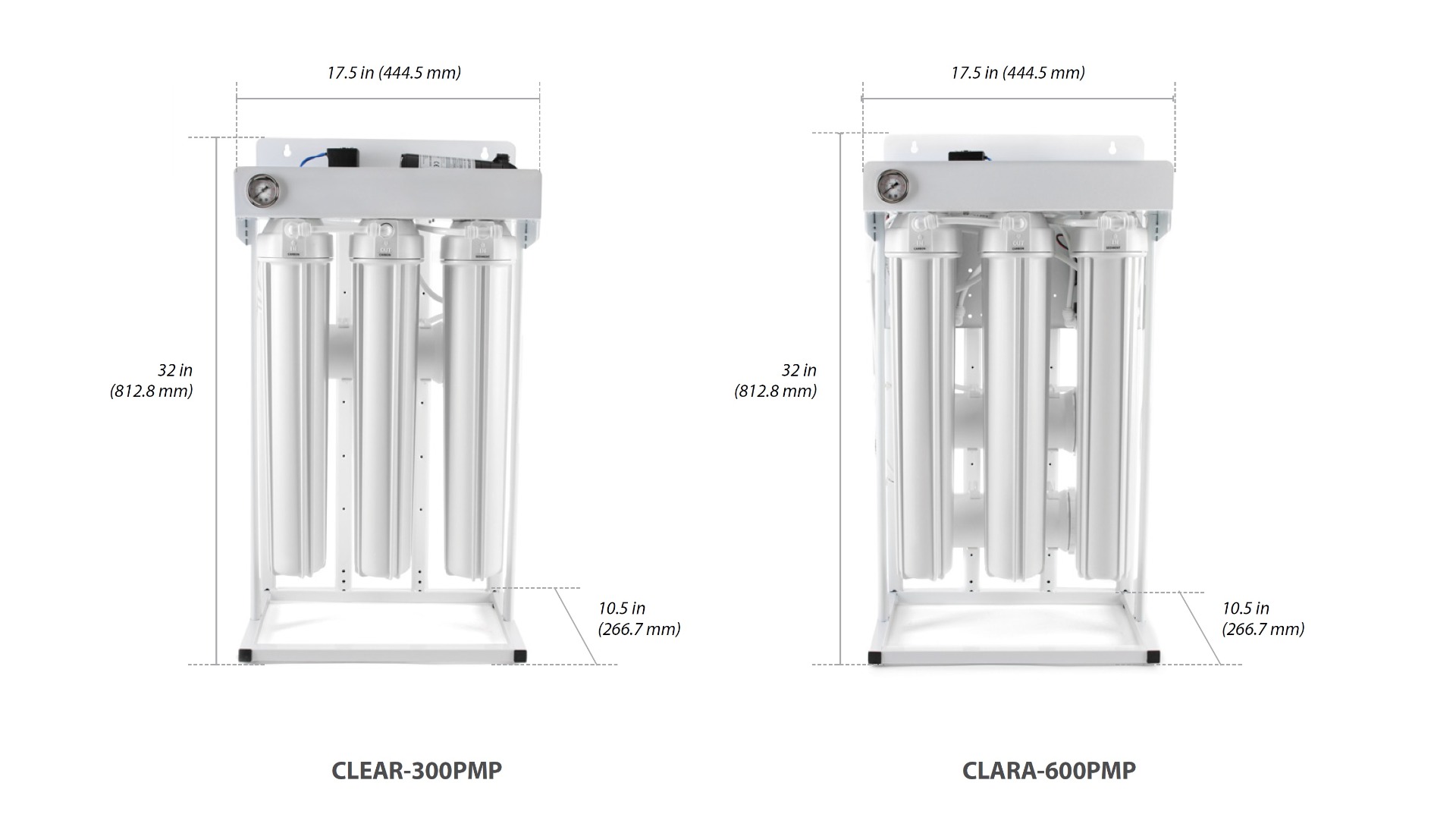 Accessories
Icemaker Connection Kit
IM25EZ (Available at additional cost)
Float Conversion Kit for Atmospheric Tanks
FVKT-38
Replacement Pre-Filters
AQUA-TITAN-SET3
Replacement Membrane
TF-3012-500
Warranty
Parts Warranty
Limited 1-year
Filter Connections
Pressure Tank
RO Controlled by Tank Pressure
Atmospheric Tank
RO Controlled by Atmospheric Tank Electric Float
Atmospheric Tank + Float Conversion Kit
RO Controlled by Tank Pressure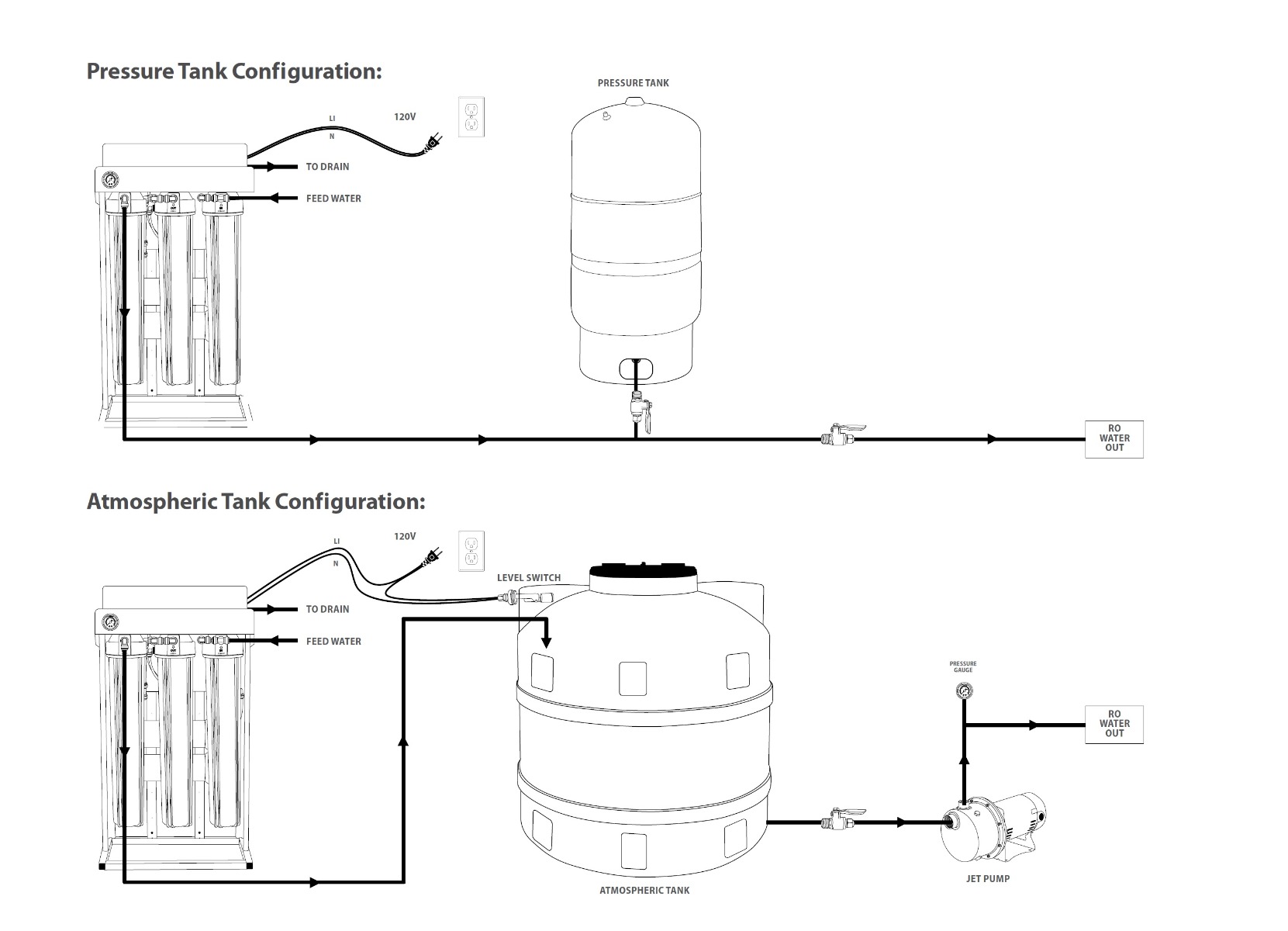 More Information

| | |
| --- | --- |
| UPC | 032733545190 |