WECO XLH-500 Light Commercial Reverse Osmosis Water Purification System - 500 GPD - Made in U.S.A.
Be the first to review this product
John Guest Push/Pull Fittings with Locking Safety Clip

5 Micron Sediment Pre - Filter, 10 Micron Carbon Block Pre - Filter and Post-Filter

AXEON TF - 3012 - 500 Membrane Element, Atlas Filtri 20" Slim Line Cartridge Housings

Includes Pressure Booster Pump for Well Water, High TDS & Low Inlet Pressure Situations

Dual TDS Meter, Blending Valve.

500 Gallon of purified water per day @ 77

°F water temperature and 250 ppm tds softened water.
WECO XLH-500 Commercial Reverse Osmosis Water Purification System
Simple and compact, these high output light commercial RO's are available in multiple configu-rations. Featuring genuine Italian made Atlas Filtri housings, USA made 5μ sediment filters, ultra high capacity (≈45,000 gal) carbon blocks, high rejection USA made "XL" membranes, Original John Guest fittings, USA made Aquatec Pumps and switches, and other quality brand names. Only the best components are used to manufacture the WECO RO systems!
Assembled and performance tested in our Long Beach California assembly facility. For use with any of our pressurized RO storage tanks, or add the atmospheric tank conversion kit to use with any size atmospheric tank. Common model listed, customized builds available. Available with Pentek Slimline or 3G housings. White and clear Atlas Filtri available upon request. Bulkhead fittings for simple installation.
Unique wall/floor mount bracket is made in the USA!
Standard Features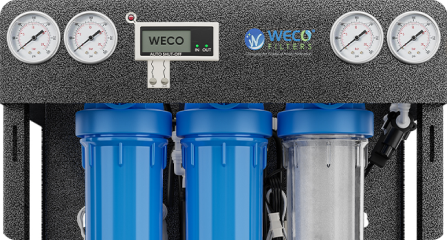 On Board Water Q-ity Monitors & Pressure Gauges
Quickly monitor inlet water TDS and switch to track filtered water quality with a button press. Pressure gauges monitor inlet PSI, pre-filter, pump, and delivery pressures.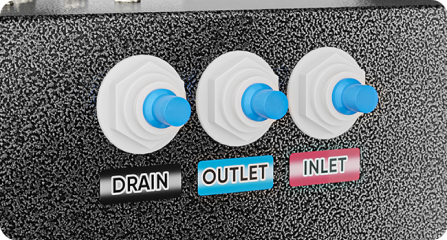 EZ Quick Connect & Disconnect Ports
Easily connect and disconnect water lines with 3/8-inch John Guest quick-connect ports. Clearly labeled inlet, outlet, and drain ports. RO filtered water Outlet internally links to a 40 PSI high-pressure switch for automated pump control with a pressurized tank (separately purchased) water pressure.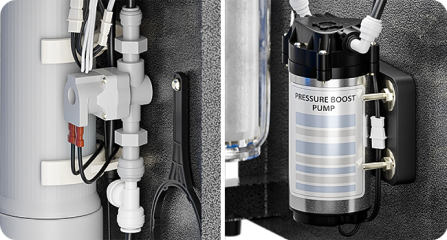 RO Pump | Pressure Sensor | Solenoid Flow Control
The diaphragm booster pump elevates water pressure before the reverse osmosis membrane, ensuring optimal contaminant reduction. A solenoid halts water flow to membrane & stops drain flow when the outlet pressure sensor detects maximum pressure. Auto flush timer cleans the membrane periodically.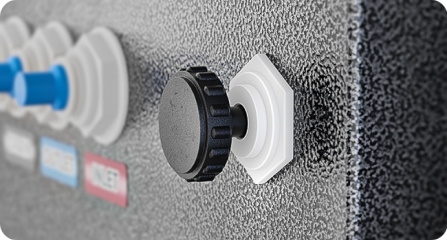 Blending Valve for Diverse Flavor Profiles
Explore various flavor profiles with the onboard water blending valve. It combines dechlorinated city water with reverse osmosis water, offering a distinct taste for use in tea, coffee, and other beverages
Membrane Elements
AXEON® TF - 3012 - 500 Membrane Element
Membrane Housings
AXEON 3012 Membrane Housing
Flow Control
⅜" Automatic Shut Off Valve or Soldenoid
Filter Cartridge
5 Micron Sediment Pre - Filter
10 Micron Carbon Block Pre - Filter and Post-Filter
Brackets and Clips
John Guest® Push/Pull Fittings with Locking Safety Clip
Specifications
Models
System Capacity
Membrane Elements
Standard
Recovery
Nominal TDS
Rejection
Dimensions
*in)
Shipping Weight
(lbs)
GPD
LPD
Size
Q-ty
XLH-1000
1,000
3,796
3012
2
50%
98%
31H x 13L x 19W
110
More Information

| | |
| --- | --- |
| UPC | 648620100924 |