WECO UXC-1465 High Efficiency Water Softener for Water Hardness Reduction
Say goodbye to mineral scale build-up on sinks, faucets, shower doors and other plumbing fixtures.
Prevents mineral scale from clogging shower heads, faucet aerators and reduces scrubbing and cleaning of bathtubs and shower stalls.
Reduces white deposits on silverware and glassware.
Hard water spot elimination in residential/commercial kitchens. Improve cleaning and reduce detergent use in washing machines.
Easier cleaning in hotel showers and sinks. Plating rinse metals scavenger. Hardness removal for reverse osmosis systems
System automatically backwashes and regenerates with salt when needed. Commercial grade metered water softener control valve head saves salt and water.
WECO UXC Series High Efficiency Water Softener Systems
The WECO UXC series high efficiency water softener is a water treatment system for municipal and well water supplies. The softener uses a high-efficiency 10% cross-linked certified resin with a high resistance to oxidation, osmotic and thermal shock.
What is 'Hard Water'?

!

Hard water is the result of excess calcium and magnesium minerals in the water supply. The calcium and magnesium (hardness minerals) dissolved in the water can cause a variety of problems ranging from aesthetic issues to serious plumbing damage. Hard water causes unsightly spotting on glassware, plates, silverware and cooking surfaces. High water temperature causes hardness minerals to collect on the bottom of the water heater tank. Eventually the water heater will make less hot water because it is partially filled with mineral particles instead of water. This also reduces the efficiency of the heating element, costing more energy dollars every day. Hard water also damages the heating elements in coffee and tea makers. The solid mineral deposits will clog filter screens in dishwashers, refrigerators, ice makers and commercial beverage dispensing equipment. Hard water also reduces the effectiveness of dishwashing detergents, making dishes harder to clean by hand and in the dishwasher.
How do softeners treat 'Hard Water'?

!

Hard water is softened by removing the calcium and magnesium it contains. When hard water passes through the softening system's resin bed, the calcium and magnesium (hardness) ions are removed through an ion exchange process, so only softened water passes through to your home or business. Once the resin bed fills up with hardness ions, it must be regenerated to remove the calcium and magnesium (hardness minerals) on the resin. Salt is typically used in the regeneration process and restores the resin to an active state so the ion exchange process can begin again. Sodium chloride or potassium chloride softener salts can be used to recharge UXC line of economy water softeners.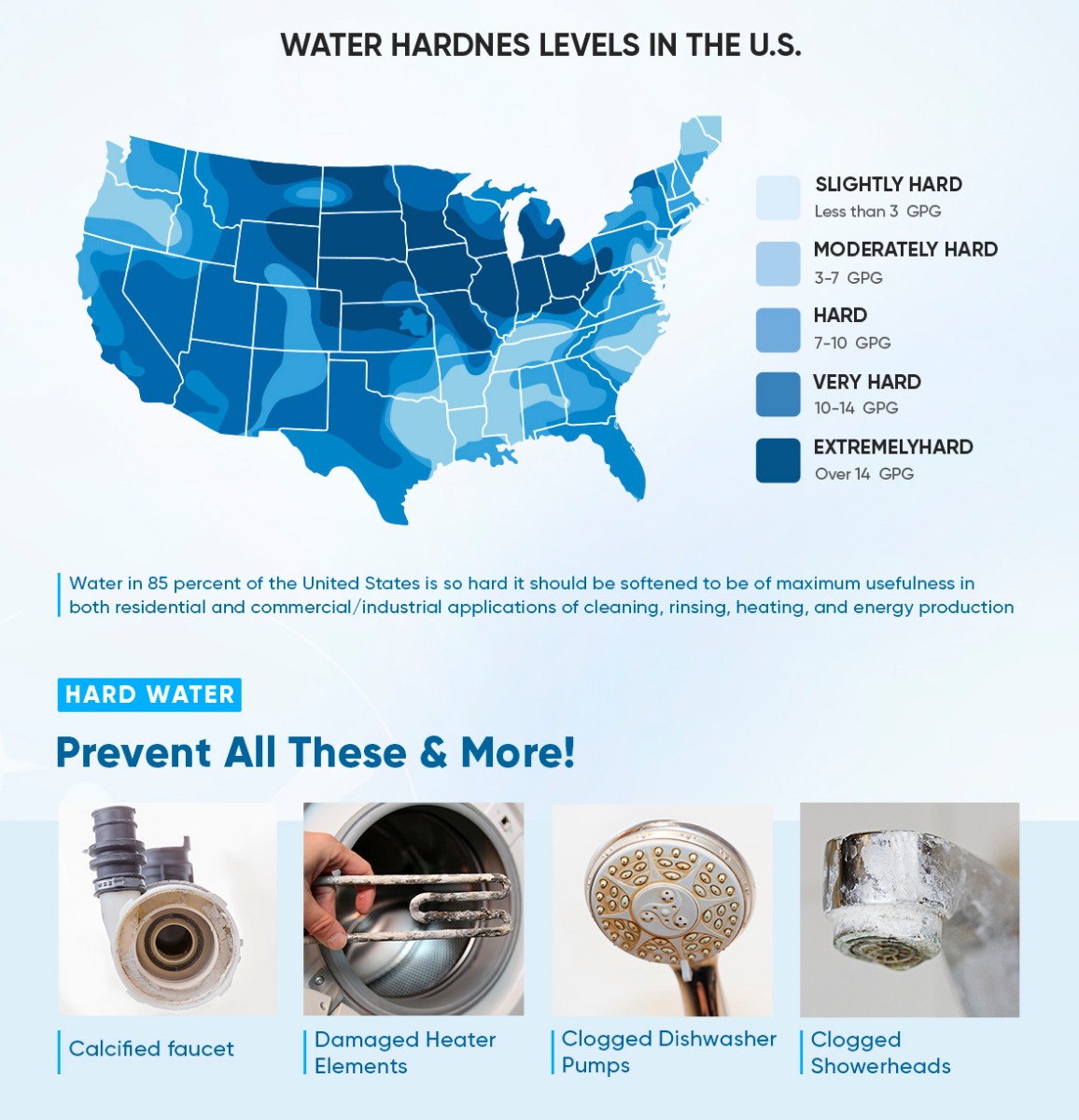 WECO water softeners can be used with chlorinated municipal water without fear of premature resin break-down. The main application of this filter system is water softening (reduction of hardness causing calcium and magnesium minerals in water) for well and municipal water supplies. The WECO system is compatible with residential water supplies.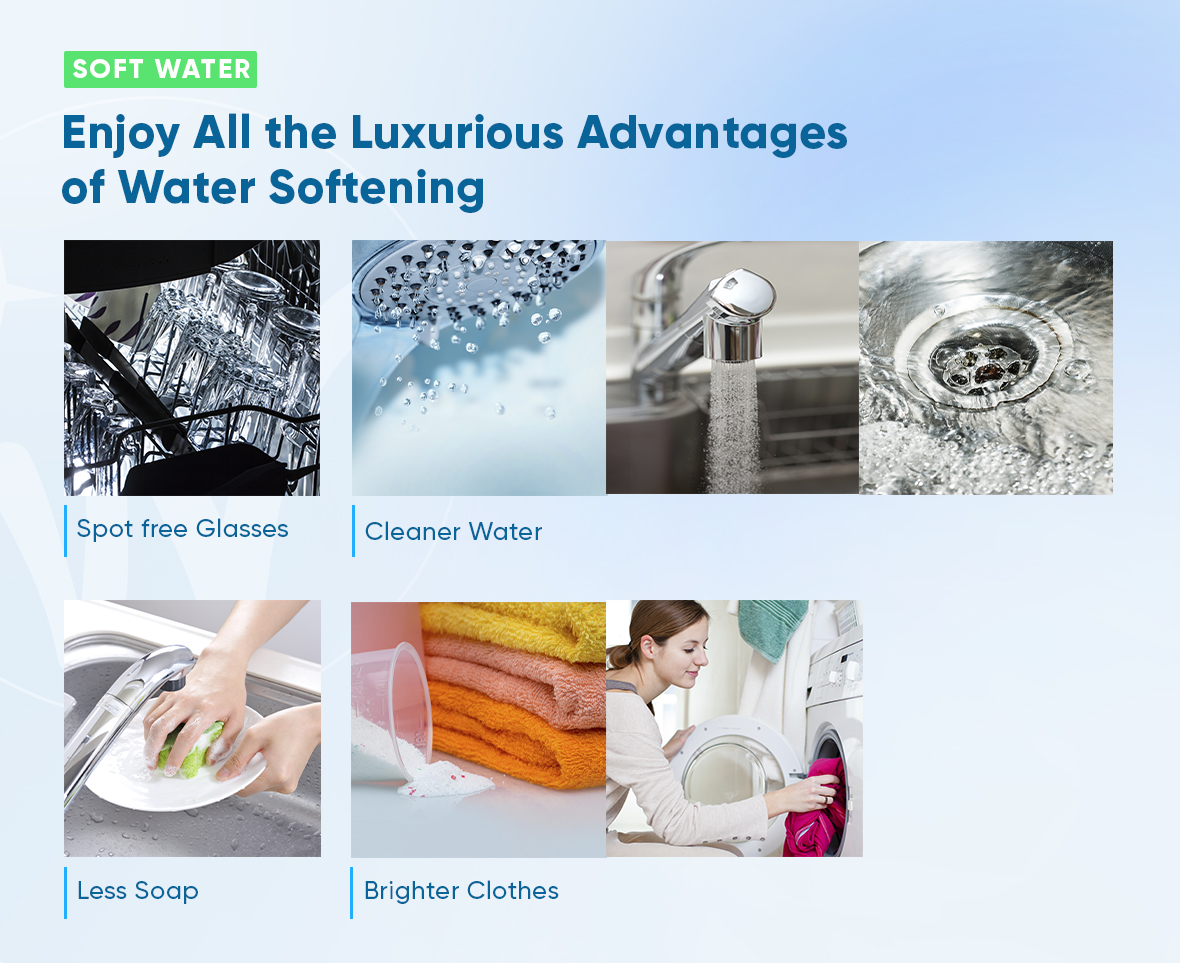 UXC Series Softener System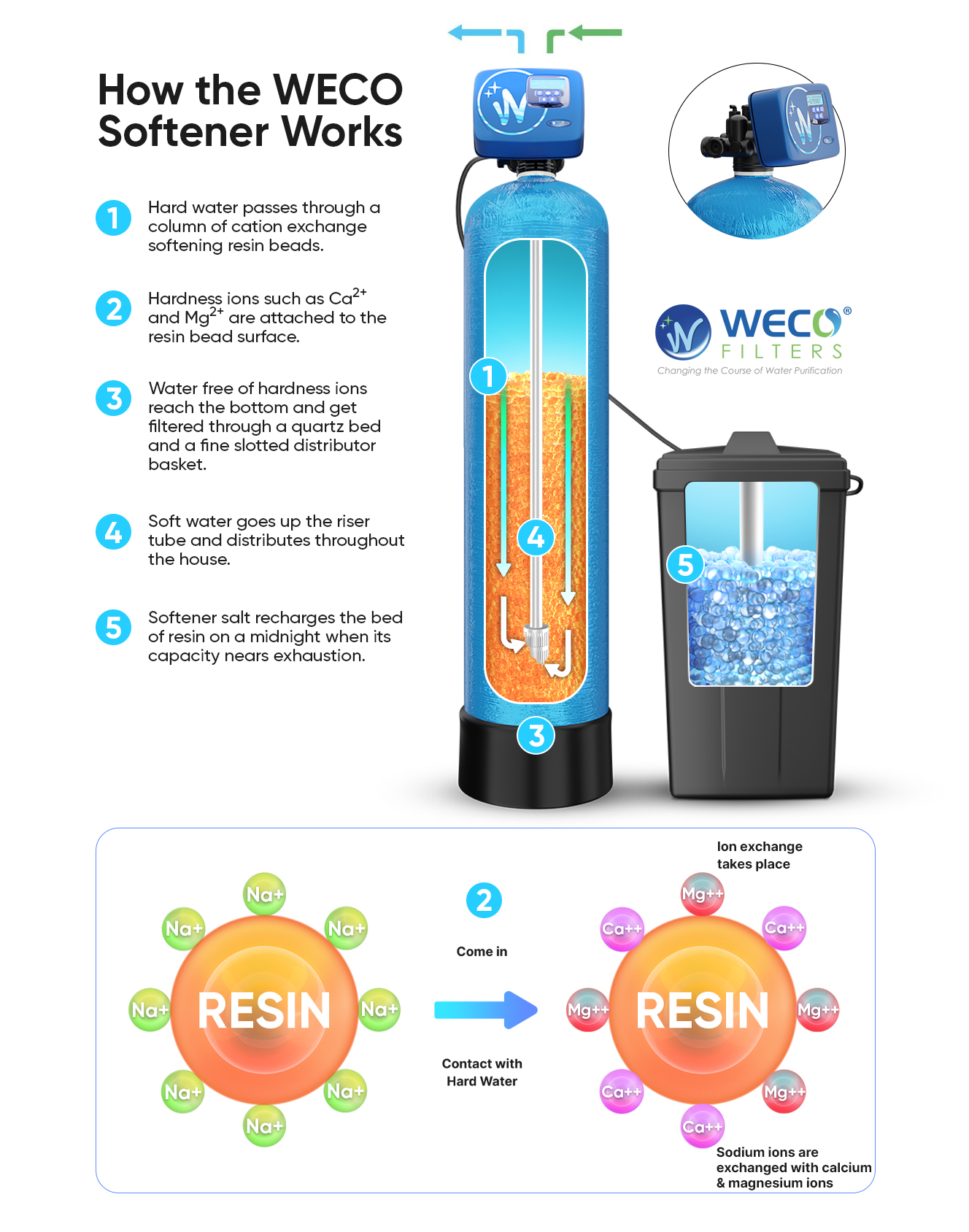 Standard Features
Connections
1" NPT Inlet/Outlet
3/4" NPT Drain
Operating Limits
Operating Pressure: 20 - 125 psi or 1.4 – 8.8 kg/Centimeter
Operating Temperature: 34 – 100° F or 1.1 – 38° C
Acceptable Salt Type: Sodium Chloride – Pellet or solar salt water softeners
Materials of Construction
Non-toxic materials, suitable for drinking water.
Head: reinforced polypropylene.
Bowl: PET.
O-ring: EPDM.
Power
110 Vac Transformer Included
Control Valve Operates on 12 Vac

Is this the proper size you need?
More Information

| | |
| --- | --- |
| UPC | 810388030700 |