Polaris Scientific UVA-418HO Commercial High Output Ultraviolet Sterilization System
High output germicidal lamps inactivate chlorineresistant parasites such as Cryptosporidium, Giardia, harmful bacteria like E.Coli, and viruses not visible to the naked eye.
Specially designed, patented HO lamps provide consistent and reliable ultraviolet output over the entire life of the lamp (9000 hours) to ensure continuous purification.
Durable stainless steel chamber to prolong life and eliminate ultraviolet light degradation.
Controller display visually displays days of use and will alarm if lamp failure occurs.
Simple to maintain and service allowing for easy lamp replacement.
UV system controller features a sealed case to prevent damage from accidental water intrusion and is CSA and CE compliant.
Description:
Polaris Scientific Ultraviolet systems provide a sleek, compact design and economical ultraviolet water treatment for low flow and medium flow applications such as: light commercial reverse osmosis systems, water vending machines, food industry, laboratory, medical facility water, pharmaceutical, cosmetic processes, final electronic component rinsing and recirculation loops to name a few.
Effectively Destroys 99.9% of Waterborne Microorganisms.
SAFE
No need to handle toxic or corrosive chemicals or by-products
Microbiologically free water without the use of potentially dangerous chemicals
UV imparts no change in taste, odor, pH or conductivity
No trihalomethanes (THM's) formation
SIMPLE
Fast and simple installation with three connection (two water and one electrical).
Maintenance involves annual lamp replacement (provided water quality parameters are met).
Automatic unattended and user friendly operation.
EFFICIENT
Compact units with 304 stainless steel reactor chamber, polished for laboratory and medical use, require minimum space.
Microorganisms are inactivated within seconds; eliminates the need for long retention times or retention tanks.
Counter / Timer
Visual Warning - "Power-On" LED
Audible Lamp Failure Alarm
Lamp Replacement Alarm
ECONOMICAL
No moving parts to wear out of break.
Lower capital investment when compared to chlorine or ozone system.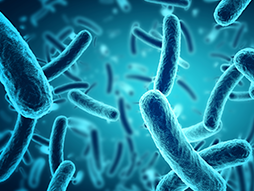 E. Coli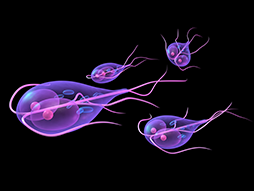 Giardia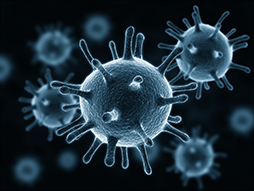 Viruses
---
Specifications
Part
Number
Flow Rate @ 95% UVT
POLARIS STANDARD (30 MJ/CM2)
Rated
Life (hrs)
Lamp
Watts
Voltage at
50/60HZ
Visual
Warning
# of
Lamps
Port size I/O
Water
Chamber
Timer
UVA-418HO
18 gpm (70 lpm)
9,000
48W
110V/220V
LED
1
3/4" FNPT / 1" MNPT
STAINLESS 304
UVA-630HO
30 gpm (113 lpm)
9,000
58W
110V/220V
LED
1
3/4" FNPT / 1" MNPT
STAINLESS 304
UVA-946HO
46 gpm (175 lpm)
9,000
90W
110V/220V
LED
1
1.5" MNPT
STAINLESS 304
Maximum Concentration Levels
Iron
< 0.3 ppm (0.3 mg/L)
Hardness
< 7 gpg (120 mg/L)
Turbidity
< 1 NTU
Manganese
< 0.05 PPM (0.05 mg/L)
Tannins
< 0.1 ppm (0.1 mg/L)
UV Transmittance
> 75%
Effectively treating water with higher concentration levels than listed above can be accomplished with WECO reverse osmosis, katalox light and/or cation softening upstream of UV. Chat with us to discuss options.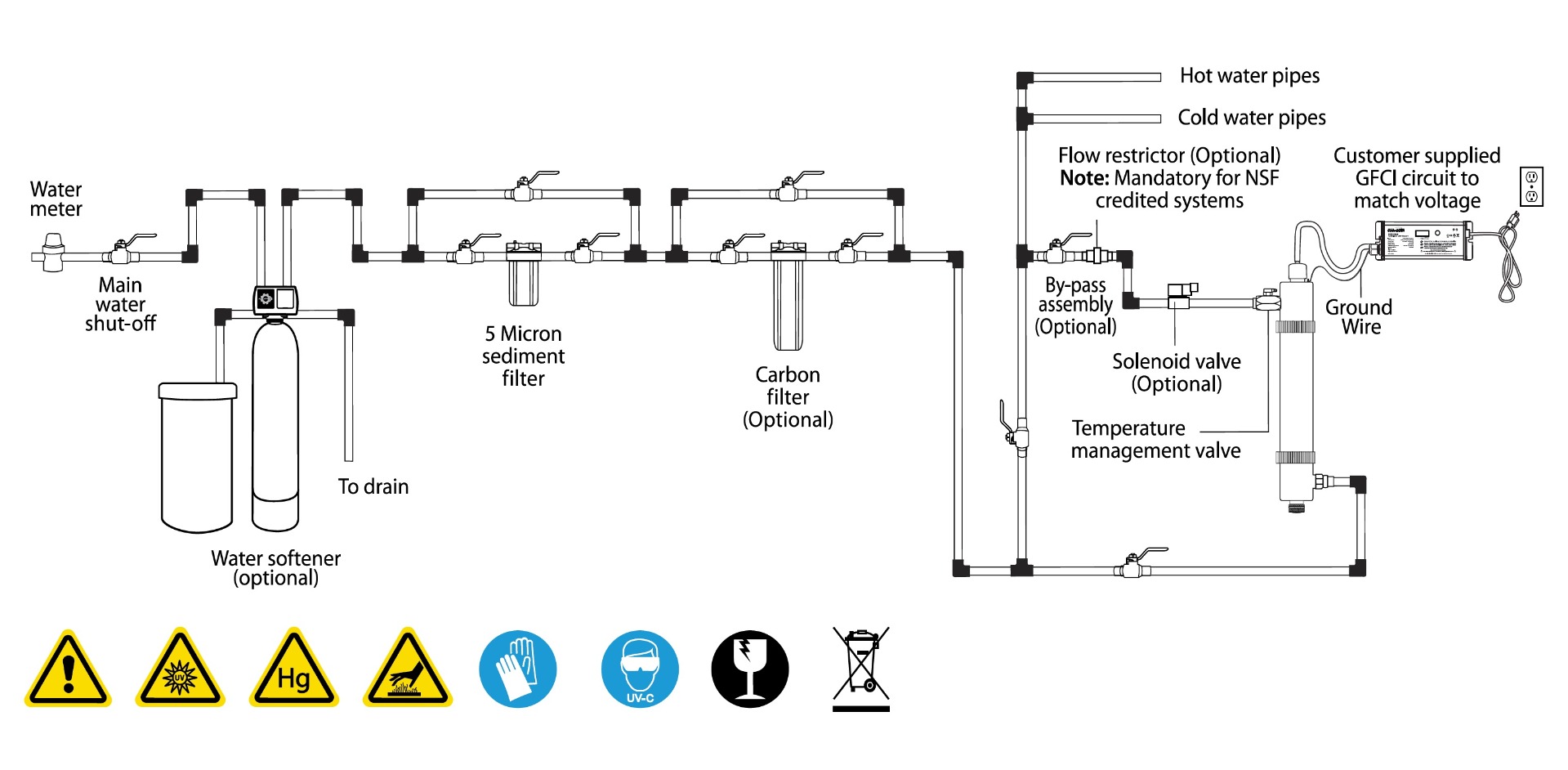 Typical Installation of a UV Disinfection Reactor
Note: UV should be the final piece of treatment equipment before the faucet.
Parts & Accessories
Part
Number
Lamp
Quartz
Sleeve
Electronic
Ballast
Additional Accessories Specific to your UV System
UVA-418HO
GLHO48PP
QS48HO
HOB-4890
UV-NUT-1 / UV-NUT-2
UV-32 SPRING
UV-WASHER
UV-SEAL
UV-PLUG
CLP-35UV
UVA-630HO
GLHO58PP
QS58HO
HOB-4890
UV-NUT-1 / UV-NUT-2
UV-32 SPRING
UV-WASHER
UV-SEAL
UV-PLUG
CLP-35UV
UVA-946HO
GLHO90PP
QS90HO
HOB-4890
UV-NUT-1 / UV-NUT-2
UV-39 SPRING
UV-WASHER
UV-SEAL
UV-PLUG
CLP-35UV
Product Rating
Warranty Information

Limited 5-year warranty on stainless steel housing
Limited 1-year warranty on electronics
Manufactured by

P.O. Box 2235
Chino Hills, CA 91709 USA