WECO SOFT-URX Combination Anion/Cation Softener for Treating Water Hardness and Uranium
Please contact WECO with your water analysis and flow requirements before purchasing. Custom made for your water chemistry. Ships freight.
SOFT-URX is a cation and anion exchange resin system in a single tank that shares brine during regeneration.
Cation resin treats water hardness that causes mineral scale build-up on sinks, faucets, shower doors and other plumbing fixtures.
Anion resin treats uranium in well water.
Comes with 1" MNPT water line connectors, brine tank and media installed
CAT+AN SOFTENER SYSTEMS
Made-to-order Cation + Anion Resin units in a single tank. All units include an upflow regeneration control valve to mitigate resin fouling that is common with mixed resin designs. The upper chamber uses a high grade cation resin for softening the water prior to entering the anion chamber. CAT+AN units only available for purchase after a water report consultation with a WQA certified water specialist.

All systems come with 1" plastic threaded connectors. Many other connector options available.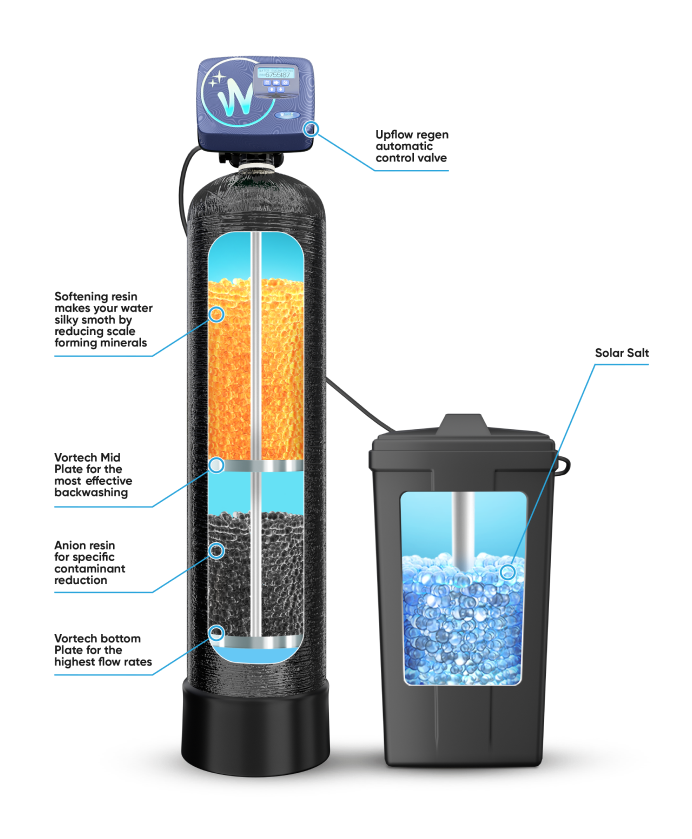 Models
Flow Rate (GPM)
Media Volume (cu.ft)
Approx. Weight (lbs)
Height (in)
Connector Size
Media Tank Size (in)
Brine Tank Size (in)
Service
Peak
Cation
Anion (uranium)
SOFT-URX-1054
2
20
1.25
0.5
265
69
1" MNPT
10 x 54
18 x 40
SOFT-URX-1354
4
20
1.75
1
275
69
1" MNPT
13 x 54
24 x 40
Components/Equipment must be professionally code compliant installed to a potable water supply. Water temperature must be limited to 40-110°F, pressure regulated at 26-80 psi, with appropriate redundant leak protection. Install vacuum breakers and flexible connectors as needed. Not to be used as primary treatment for hazardous or critical applications. Due to water chemistry and inconsistency, pilot testing is recommended.
Monitor performance with appropriate warning/shut off device. Do not use with water that is microbiologically unsafe or of unknown quality without adequate disinfection before and/or after. Pre-treat influent for contaminants and sediment, apply sufficient back wash/rinse at start-up and protect effluent from potential media loss. Prices/info subject to change without notice.