WECO SFX-2900S Series 2" Pipe | Progressive Flow Commercial Water Softeners
Progressive flow softener system provide uninterrupted flow of soft water 24/7, round-the-clock, easily accommodating erratic flow demands.
Inlet/outlet 2" pipes, 1" NPTM drain line. [ Inlet and outlet diameter of the water softener must match the diameter of the water supply piping at the location where the softener will be installed. UPC 610.2 ]
Treated water regeneration eliminates hardwater carryover. This feature is a huge plus over traditional single tank softeners and therefor improves the efficiency of the regeneration process, allowing for less salt to be used.
Recommended for laundries, car washes, restaurants, hotels/motels, apartment complexes.
System 14 configuration is similar to twin alternating softeners but easier to plumb in, costs slightly more but more versatile due to dual meters.
Please note these systems are made to order and all sales are final. No returns, exchanges or refunds. Media shipped unloaded with funnel.
SFX Series 2" Commercial Progressive Water Softener System
Industry standard progressive flow design offers exceptional efficiency and high flow rates. Our SFX series is the choice for applications where efficiency and quality are paramount.
Standard Features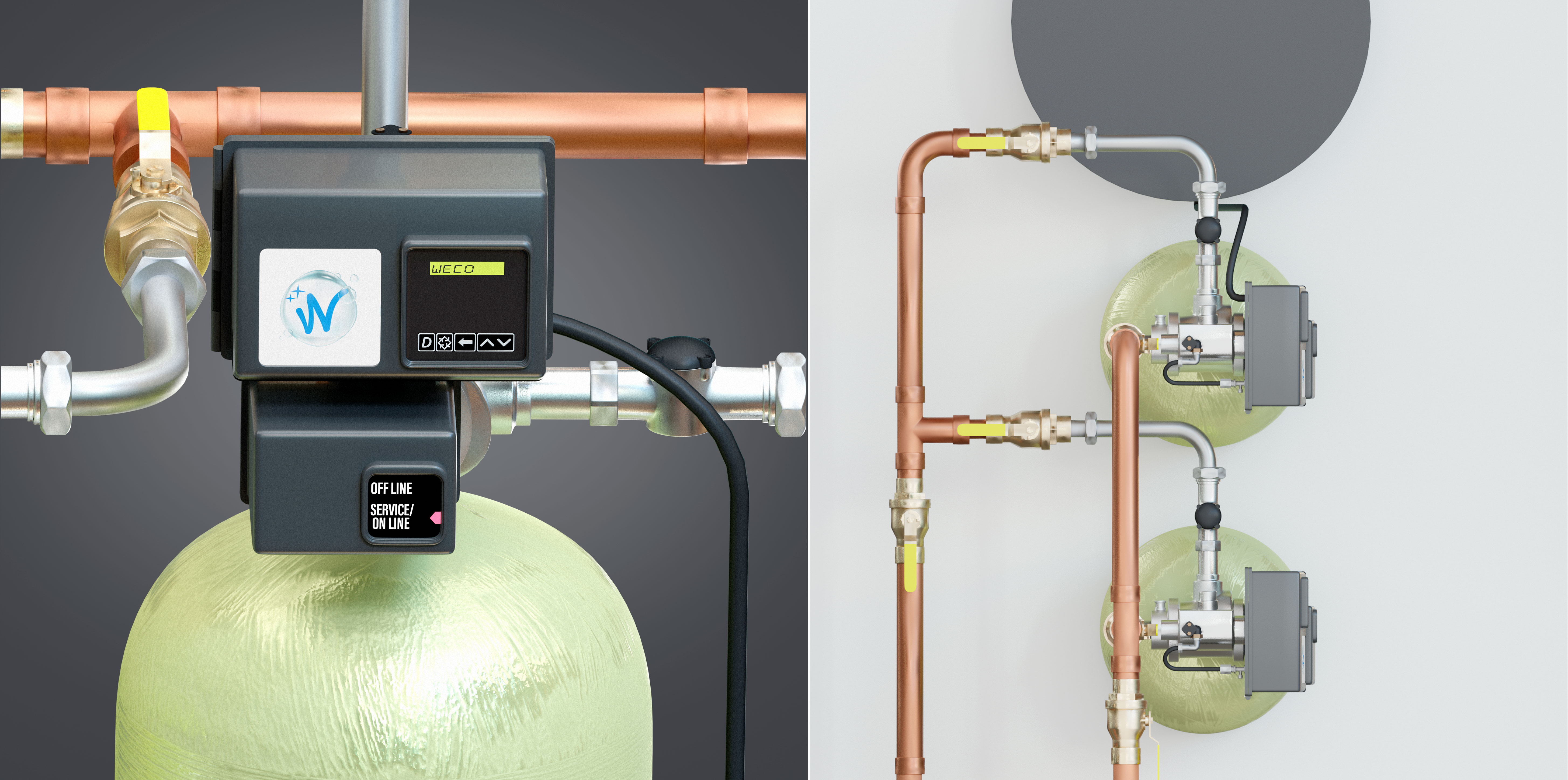 Stainless Steel Meter
Strength and durability. Non corrosive.
As defined in the U.S. EPA Safe Drinking Water Act; the product also meets California Proposition 65 Standards
Intelligent Controller
State-of-the-art control head designed for commercial/industrial water applications requiring high flow rates.
Designed for multiple tank systems. No hard water bypass.
Fully automated performance.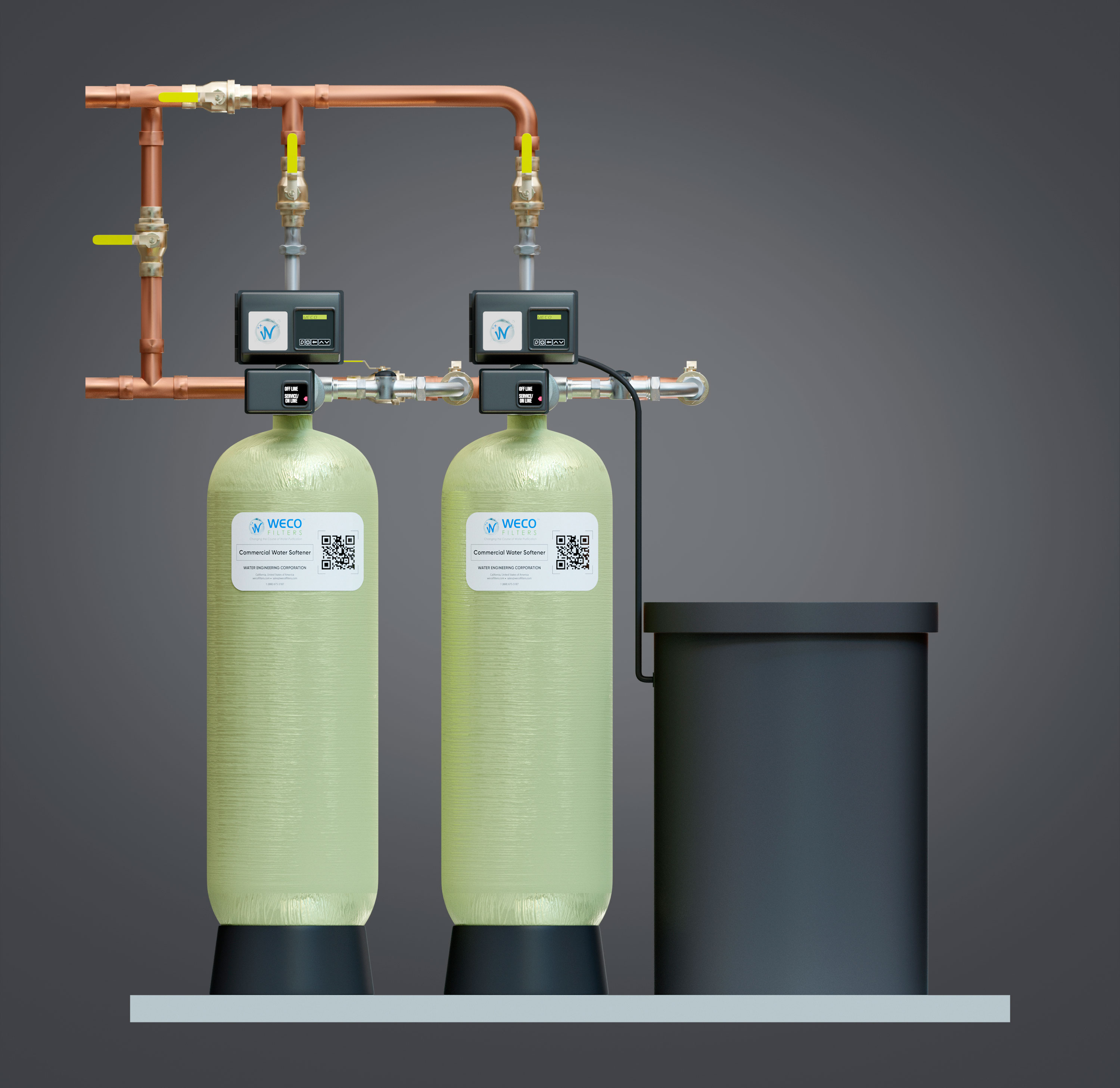 Responsive Flow
One softener unit always in service. If demand causes flow rates to increase, softener in standby go into service. Multiple softeners capture peak flow rates.
Simple Connections
2" Female NPT ports & 1" MNPT drain
Easier to plumb in than twin softeners, costs slightly more but more versatile due to dual meters.
Installation & operation manual included.
Applications
Laundries, car washes, restaurants, hotels, luxury apartments, hospitals, doctors offices.
Pre-treatment for heavy use fixtures such as hot water tanks, appliances, boilers, RO systems.
Notes
Ships with media NOT loaded. Refer to installation instructions for media loading procedure.
Brine tank, PVC vacuum breaker, falcon female flex connector included.
Advantages
Demand flow captures low and high flow rates effectively.
Ability to use smaller tanks and still meet the flow requirements compared with regular tank softeners.
Typical media replacement every 5 - 7 years* (depends on water chemistry).
Low operational costs.
Operating Limits
Operating Pressure 30-100 PSI
Water Temperature 35-100 °F
(Contact us for heated water applications)
Power Supply 120 VAC 60 Hz Single Phase 2 amps
Pelletized or Solar Salt
Installation
Specifications
| Models | Resin Media Volume / Tank (cu.ft) | Mineral Tank Dimensions (in) | Service Flow (GPM) | Peak Flow (GPM) | Brine Tank Dimensions(in) |
| --- | --- | --- | --- | --- | --- |
| SFX-2900S-1252 | 2 | 12 x 52 | 2-15 | 35 | 18 x 40 |
| SFX-2900S-1354 | 2.5 | 13 x 54 | 3-18 | 40 | 18 x 40 |
| SFX-2900S-1465 | 3 | 14 x 65 | 3-21 | 45 | 18 x 40 |
| SFX-2900S-1665 | 4 | 16 x 65 | 4-27 | 50 | 24 x 41 |
| SFX-2900S-1865 | 5 | 18 x 65 | 5-35 | 60 | 24 x 41 |
| SFX-2900S-2162 | 6 | 21 x 62 | 7-48 | 70 | 24 x 41 |
| SFX-2900S-2472 | 9 | 24 x 72 | 9-62 | 80 | 24 x 60 |
| SFX-2900S-3072 | 14 | 30 x 72 | 15-90 | 90 | 30 x 60 |
| SFX-2900S-3657 | 16 | 36 x 57 | 21-90 | 100 | 30 x 60 |
| SFX-2900S-3672 | 18 | 36 x 72 | 21-90 | 100 | 39 x 48 |