WECO KL-1054-OZONE Backwashing Filter with Katalox Light® & Ozone for Iron, Manganese & Hydrogen Sulfide Reduction
Heavy-duty home filtration system for Iron, Manganese, Hydrogen Sulfide treatment. Can treat low levels of Iron or Sulfur bacteria with the enhanced ozone feature.
Capable of reducing Arsenic, Radium, Heavy Metals, & Radionuclide levels in water.
Capable of filtering Suspended Solids, Sediments, Turbidity, Organics, Color & Odor.
Kynar check valve should be replaced and the corona discharge cell cleaned annually.
6 GPM service flow suitable for most residential applications. 6.5 GPM or higher backwash flow rate required. Please make sure enough backwash flow is available before ordering. Contact us if you need help.
WECO Whole House Filter with
Katalox Light®

&

Ozone

for Iron, Manganese & Hydrogen Sulfide Reduction

The WECO Backwashing filter with Katalox Light® is a specialized Point-Of-Entry (POE) system for municipal and well water supplies. Made in Germany, Katalox Light consists of manganese dioxide (MnO2) coated onto naturally mined ZEOSORB. This is a light-weight filtration media with many valuable functions and properties related to water treatment and remediation. Katalox Light media has a very high surface area which filters out particulate matter down to three microns. This is an ideal media to use for removing Totals Suspended Solids (TSS), turbidity and sediments like sand and oxidized mineral particles. Katalox Light also has oxidation properties. Iron, manganese and hydrogen sulfide are easily removed with this media. The active surface coating oxidizes and precipitates soluble iron, manganese and hydrogen sulfide, which are flushed away in the back wash operation. The media also removes lead, copper, radium, uranium as well as other heavy metals and radionuclides. Added AIO/Ozone feature will mitigate potential iron bacterial fouling of the media. Automated daily regeneration for optimum performance.

WECO backwashing filters are available in a variety of sizes. Please consult with WECO Technical Support for assistance in selecting the proper size filter to meet your water purification requirements.
Standard Features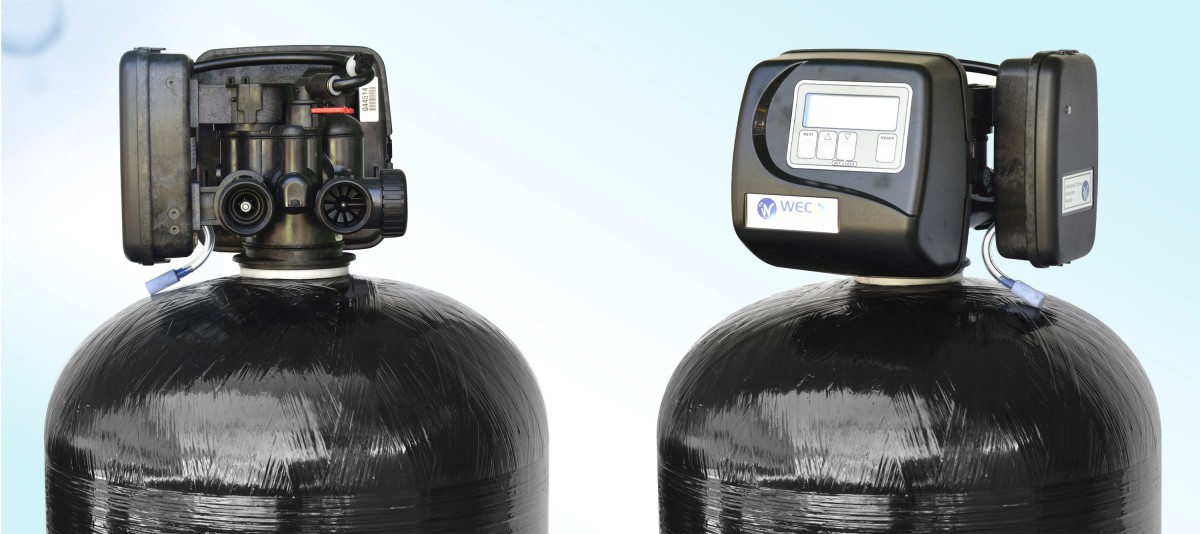 Fiber Reinforced Valve Body
Strength and durability. Non corrosive.
Unique water distribution technology creates fluidity of the media bed and extends contaminant removal capacity.
Intelligent Controller
State-of-the-art control head designed for residential and commercial water applications requiring high flow rates.
Regulates all cycles of water filtration with a solid state microprocessor, front panel settings and LCD display.
Fully automated performance.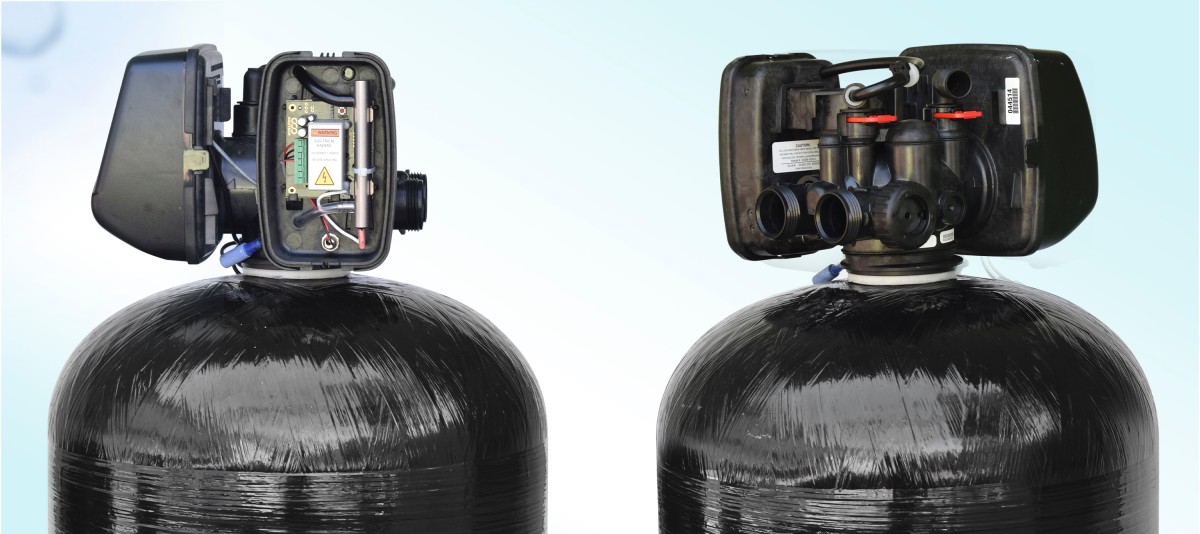 Enhanced Oxidation Generator
EOG provides active ozone during the back-wash process and leaves a head of ozone in the filter which aides in the oxidization, cleaning, and the filtering of iron, manganese, sulfate and various other heavy metals from your water.
EOG system will also assist in eliminating unwanted odors such as rotten egg, stale, or musty smells.
Simple Connections
Standard MNPT inlet, outlet, drain and electrical connections.
In/Out bypass included.
Installation & operation manual included.
EOG Module
Automated control of EOG module by the filter control valve.
Onboard diagnostic LED light to convey real-time performance status of the unit.
Notes
A pH raise can occur for several months after installation.
Higher backwash rates required. Check table below. Run multiple units plumbed in parallel if you cannot meet backwash flow rate.
All units made to order. Customized for 'Ship To' address state temperature. Programmed before shipment.
Advantages
High efficiency removal capacity of Iron, Manganese and Hydrogen sulfide.
Effective reduction of Arsenic, Zinc, Copper, Lead, Radium, Uranium, radionuclides and other
Typical media tank replacement every 5 - 7 years* (depends on water chemistry).
Low operational costs.
Specifications
Operating Pressure 20-125 PSI
Operating Temperature 40-110 °F
Power Supply 120 VAC 60 Hz
Output 12 VAC 500 mA
Recommended pH >7.5, iron < 5 ppm, manganese < 1 ppm, hydrogen sulfide < 1ppm
Pre-treatment available for water chemistries out of recommended parameters. Contact us with your water report if you need help.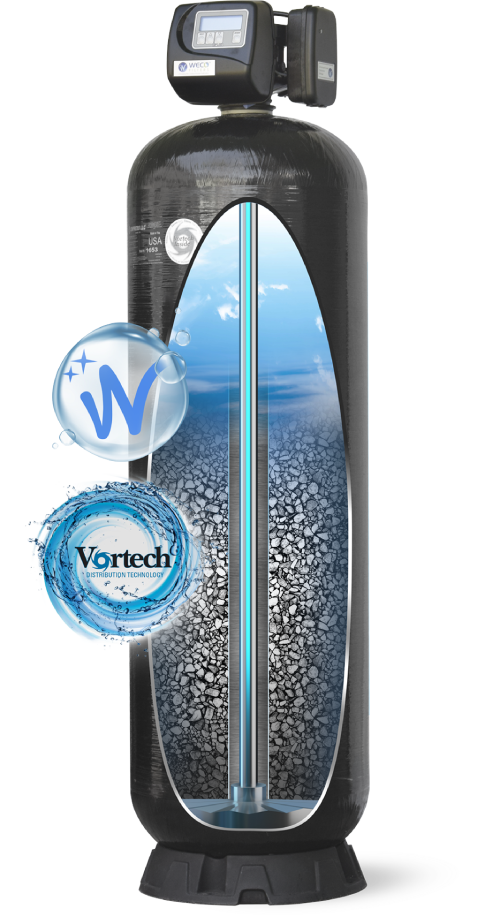 Vortech® distribution technology creates fluidity of the media bed and extends contaminant removal capacity; which means significant reduction of backwash water use…saving water and the environment, with backwash flow rate reductions of at least 30%.
Installation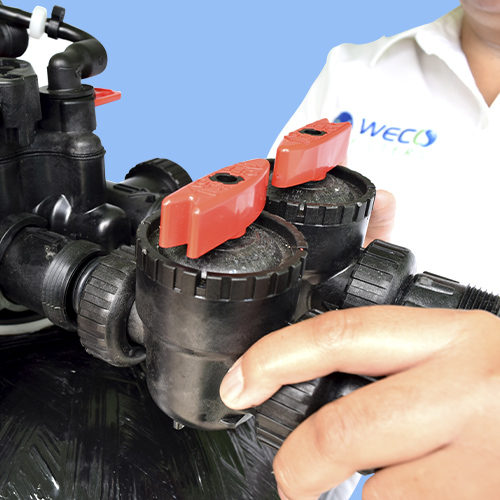 External Bypass Valve Included
Bypass let's more control of the equipment as well as the water supply into your house offering service, bypass, diagnostic and shutoff modes.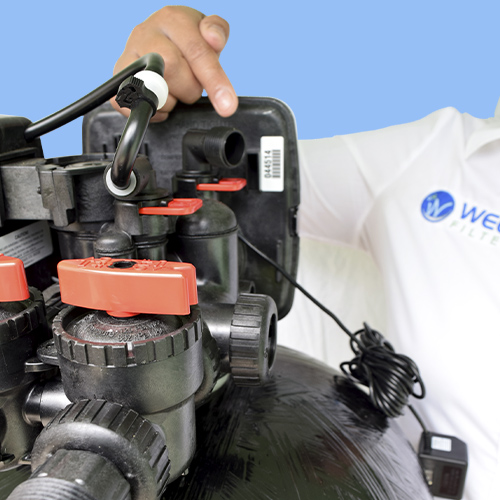 Drain Valve
High flow backwashing performed every night to prevent void areas in the medium become filled with particles removed from the water, resulting in pressure drop from the outlet. Backwash water is flushed through the drain.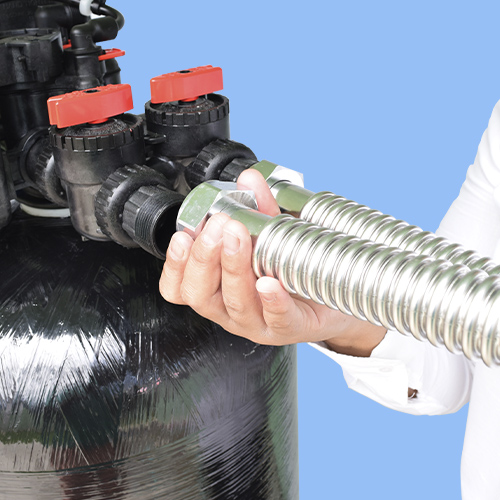 Stainless Flex Connectors
Full flow flexible stainless steel connectors included for reducing installation costs and upkeep expenses.
Eliminates the need for unions and allows tank expansion which may prevent costly leaks.
Annual Maintenance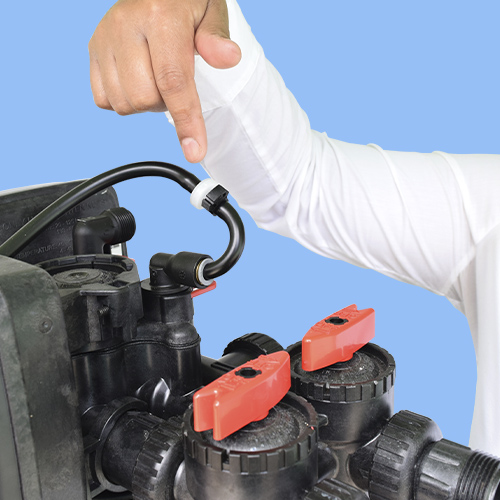 Inline Check Valve
Replaceable inline check valve part# 316-CV-OZ (every 12 months).
Corona Discharge cell cleaning kit part# OZCLEAN-KIT
Specifications
| Models | Katalox Light® Media Capacity (cu.ft) | Mineral Tank Dimensions (in) | Total Height (in) | Connector Size (in) | Service Flow (GPM) | Peak Flow (GPM) | Backwash Flow (GPM) |
| --- | --- | --- | --- | --- | --- | --- | --- |
| KL-0948-OZONE | 1 | 9 x 48 | 58 | 1 MNPT | 3 | 4 | 4 |
| KL-1054-OZONE | 1.5 | 10 x 54 | 64 | 1 MNPT | 6 | 14 | 6.5 |
| KL-1252-OZONE | 2 | 12 x 52 | 62 | 1 MNPT | 8 | 15 | 8 |
| KL-1354-OZONE | 2.5 | 13 x 54 | 64 | 1 MNPT | 10 | 16 | 10 |
| KL-1465-OZONE | 2.5 | 14 x 65 | 75 | 1 MNPT | 11 | 17 | 13 |
| KL-1653-OZONE | 2.5 | 16 x 53 | 63 | 1.25 MNPT | 12 | 18 | 15 |
More Information

| | |
| --- | --- |
| UPC | 745051165437 |