WECO Multi Stage Dechlorinating Shower Filter (White)
Works with hot & cold water.
Standard 1/2" ports fits most houses, apartments, RV/motorhomes. No complicated plumbing required. Use your existing showerhead.
Can be used with most hand held showers as well.
Multi stage design includes KDF chlorine scavenging media, coconut shell carbon, micron pad for sediment filtration and bioceramic pH balancing media.
Benefits - Soft, smooth skin. Healthy, silky, beautiful hair. Adjusts pH of water. Extends hair color. Improves hair comb-ability (less frizz). Reduces itchy skin and scalp. Less chlorine inhalation. Chlorine, lead, mercury reduction. Reduces skin chlorine absorption.
Expected life 4-6 months.
WECO Multi Stage Dechlorinating Shower Filter
WECO Dechlorinating Shower Filter reduces the harmful effects of chlorine and other contaminants, offering you a luxurious shower.
The multi-stage filtration process utilizes Coconut Shell Carbon, KDF Chlorine Scavenging media, BioCeramic pH Balancing spheres and Sediment filtration to give you an invigorating shower experience.
The Dechlorinating Shower Filter doesn't stop at basic chlorine reduction. Through its multi stage process the shower filter truly is able to offer you a better shower experience. Softer and silky smooth skin and hair, longer lasting hair color, less dry, itchy, flaky skin and scalp are but some of the benefits of a WECO Shower Filter.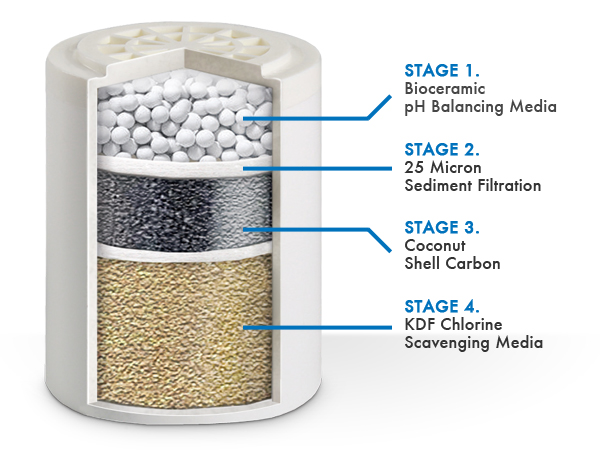 Stages of Filtration
Standard Features
Connection
Water Treatment Media
Additional Options & Upgrades
Operating Limits
Specifications
Capacity
Flow Rate (GPM)
Approx. Weight (lbs)
Dimensions (in)
Connector Size
Water Pressure (PSI)
Expected Life
Service
Peak
15,000 Gallons
1.3
2.6
2.5
9 x 4 x 4
½"
20-80
4-6 months
More Information

| | |
| --- | --- |
| UPC | 719284871557 |