WECO A300E-1465 Backwashing Filter with A300E Ion-Exchange Resin for Nitrate Removal
Be the first to review this product
Features and Benefits:
Heavy-duty home filtration system delivers purified water to every faucet in your home or office.
Capable of reducing Alkalinity, Nitrate, Uranium, Sulfate and is recommended for Industrial Demineralization.
Reliable optical electronics eliminates microswitch positioning problems.
Touch-screen control value provides quick setup and programming.
Quick Connect clips allow easy installation and maintenance.
Super capacitor back-up saves settings during power outage.
Remote lockout and regen input
Field programmer for quick configuration and diagnostics data downloaded for PC via USB.
Two programmable auxiliary relays for commercial/industrial reverse osmosis pre-treatment lockout applications.
Attractive and durable stainless steel finish.
Description:
The WECO Backwashing filter with A300E ion-exchange resin is a Point-Of-Entry (POE) filtration system for municipal and well water supplies. The main application of this filter system is removal of nitrate form well and municipal water supplies. The WECO system is compatible with residential, industrial, institutional and medical water supplies. This nitrate removal system can be used stand-alone or in conjunction with other WECO filtration systems. Other applications for this filtration system are:
Sulfate removal
Industrial demineralization
Alkalinity removal
Uranium removal
WECO backwashing filters are available in a variety of sizes. Please consult with WECO Technical Support for assistance in selecting the proper size filter to meet your water purification requirements.
A300E is a polystyrene gel crosslinked with DVB (divinylbenzene) anion ion exchange resin. It is a Type II strong base resin supplied in the chloride form. This resin is highly selective for the removal of nitrate in municipal and well water supplies. The A300E resin has been approved by the US Food and Drug Administration for drinking water/food treatment applications. The gel resin beads have a high removal capacity and efficient regeneration properties. Pressure drop remains low and backwashing requirements are minimized. The resin is typically regenerated with sodium or potassium chloride.
Nitrate is the most common chemical contaminant in the world's groundwater supplies. The main sources of nitrate contamination in water are fertilizers, animal waste, and septic tank wastes. The water supplies most vulnerable to nitrate contamination are in agricultural areas and in well waters having a close proximity to septic tanks. Infants under six months of age have a greater risk of nitrate poisoning, called methemoglobinemia ("blue baby" syndrome). Toxic effects occur when bacteria in the infant 's stomach convert nitrate to more toxic nitrite. When nitrite enters the bloodstream, it interferes with the body's ability to carry oxygen to body tissues. Symptoms include shortness of breath and blueness of the skin around the eyes and mouth. This condition can lead to coma and eventually death. Pregnant women are susceptible to methemoglobinemia and should be sure that the nitrate concentrations in their drinking water are at safe levels. Some scientific studies suggested a linkage between high nitrate levels in drinking water with birth defects and certain types of cancer.
Sulfate is considered a nuisance contaminant that causes taste problems in drinking water. Sulfates are naturally occurring substances that are found in minerals, soil, and rocks and can leach into water supplies. Water with high sulfate can have a bitter taste and may have a laxative effect on humans and young livestock. Baby formula should not be prepared with high-sulfate water. Sulfate minerals can cause scale buildup in water pipes similar to other minerals. Elevated sulfate levels in combination with chlorine bleach can make cleaning clothes difficult. Sulfur-oxidizing bacteria produce effects similar to those of iron bacteria. They convert sulfide into sulfate, producing a dark slime that can clog plumbing and/or stain clothing. Blackening of water or dark slime coating the inside of toilet tanks may indicate a sulfur problem.
The WECO backwashing filter consists of a Structural Poly Glass™ pressure tank and a Fleck 5810 XTR2 touch screen controller. Structural Poly Glass™ is the ideal filter media tank for residential and industrial water filtration and conditioning duty. The pressure tank has an attractive stainless-steel outer jacket for good looks, and durability. This combination provides unmatched strength and chemical resistance for years of trouble-free service. The slim diameter makes installation easy in tight locations and does not take up a lot of floor space. The Fleck XTR2 controller is constructed of a fiber-reinforced polymer valve body for superior strength and durability. It is non-corrosive and UV-resistant. The controller uses an optical sensor for precision cycle positioning. The controller is easily programmed and user-friendly due to detailed screen descriptions, color LCD display, and familiar icons. The intuitive navigation is easy with a large LCD screen. The controller has an internal memory that remembers your settings during a power failure. It has a convenient Vacation Mode to save water when not in use. The password lock-out prevents unauthorized users from changing the settings. An audible alarm sounds if there is a controller error. Diagnostics can be downloaded via USB should the need arise. The Fleck XTR2 controller has feature rich diagnostics including:
Current Flow Rate
Peak Flow Rate (can be reset)
Totalizer (can be reset)
Last Regeneration
Daily usage for last four weeks
Software Version
Number of Regenerations
Regeneration Interval
Usage since last regeneration
Last program change
Water enters the top of the tank through the Fleck control valve and passes downward through the A300E resin. The WECO backwashing filter will clean itself periodically by rinsing away solid impurities that can plug the resin bed. The control valve automatically starts the backwash process. The backwash procedure is an operation where water passes backward through the filter media at a fast flow rate. It enters the tank at the bottom through the riser tube, then flows upward through the filter medium, exiting at the control valve and sent to waste. The rapid, turbulent upward waterflow, in addition to flushing away particulate matter, loosens and resettles the media bed. A regeneration cycle flushes the resin bed with brine to strip off nitrate (or other anions) and load the resin's exchange sites with chloride ions, preparing it for another filtration cycle. The treated and conditioned water enters the riser tube at the bottom of the mineral tank, passing upward and exiting the filter through the control valve.
Controller Certifications:
Tested and Certified by the WQA to NSF/ANSI Standard 44 for Water Softener Performance.
Tested and Certified by the WQA to NSF/ANSI Standard 372 for Lead Free Compliance.
NSF Tank Certifications:
Safety factor: 4:1
Minimum burst at 600 psi
Tested to 100,000 cycles without leakage
Residential tanks 6"-16" in diameter are Certified to NSF 44
Maximum operating pressure: 150 psi
Maximum operating temperature: 120° F
Vessels tested and certified by the Water Quality Association (WQA) to NSF/ANSI Std. 44 for material safety and structural integrity requirements and Std. 372 for low lead compliance.
Resin Certification:
Certified by the WQA to NSF/ANSI-61 Standard
Compliant with FDA Regulation 21 CFR 173.25 for Food Treatment, Ion Exchangers
VALVE SPECIFICATIONS
Valve Material Fiber-reinforced polymer
Inlet/Outlet 1"
Cycles 3-5
FLOW RATES (50 PSI INLET) – VALVE ALONE
Continuous (15 psi drop) 36 GPM
Cv (flow at 1 psi drop) 5.4
Max. Backwash (25 psi drop) 28 GPM
REGENERATION
Downflow/Upflow Both
Adjustable Cycles Yes
Time Available XTR2: 0-240 minutes per cycle
METER INFORMATION
Meter Accuracy .25 - 15 GPM +/-5%
Meter Capacity Range (gal.) LXT: volume calculated XTR2: 1-99,999,999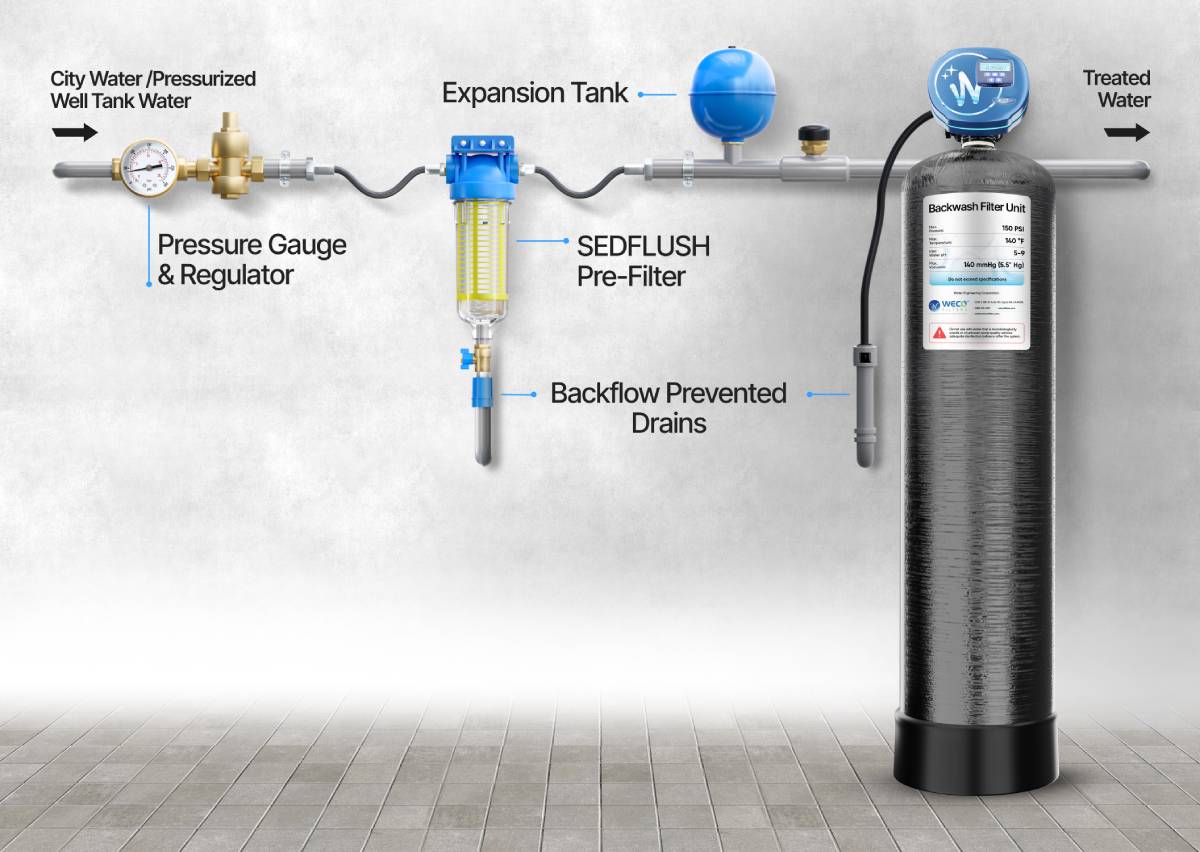 Specifications
Model
Maximum Service Flow (gpm)
Tank Size Diameter (inches)
Minimum Backwash Rate (gpm)
A300E Process Media
Bed Depth (Inches)
Weight (lbs)
Volume (cu. ft.)
A300E - 0635
3
6 x 35
6
10
28.5
0.16
A300E - 0735
4
7 x 35
8
11
42.8
0.25
A300E - 0840
5.5
8 x 40
10
12
57.0
0.33
A300E - 0948
6
9 x 48
12
13
85.5
0.50
A300E - 1054
8
10 x 54
16
14
114.0
0.66
A300E - 1252
11
12 x 52
22
16
171.0
1.04
A300E - 1354
3
13 x 54
26
17
222.0
1.30
A300E - 1465
15
14 x 65
30
18
285.0
1.60
A300E - 1665
20
16 x 65
40
20
339.0
2.33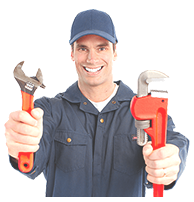 Professional Plumbing Support recommended for Installation
Water pressure can cause leaks and damage the surrounding building or fixture if not properly installed. User mustcheck all fittings for tightness. WECO assumes no responsibility for water damage due to leaks.

More Information

| | |
| --- | --- |
| UPC | 810388030045 |