Pentair Big Blue© Filter housing 1" NPT Ports w/ Pressure Relief for 4 ½ " X 20" Filter Cartridges
Recommended for POE residential and commercial water purification applications.

EPDM O-ring for leak-proof operation.

Rated for up to 100 psi and 165

°

F.
Pressure-relief button for easy maintenance.

Inlet/Outlet: 1" FNPT threads for fast flow rates.
Pentair Pentek Big Blue and Big Black Heavy Duty Filter Housings offer the versatility to meet all of your large-capacity filtration needs, including high-flow and heavy-sediment applications. The extra large housing allows for greater cartridge capacity, reducing the number of vessels required for high flow-rate applications. Sumps are available in both 10" and 20" lengths.
The High-Flow Polypropylene (HFPP) cap is available with 3/4", 1" or 1-1/2" NPT inlet and outlet ports. The 1-1/2" internal port allows a greater volume of liquid to pass through the HFPP cap more rapidly.
Big Blue and Big Black Housings are compatible with a broad range of chemicals and are available with or without a pressure relief button. They accept a wide variety of 4-1/2" diameter cartridges.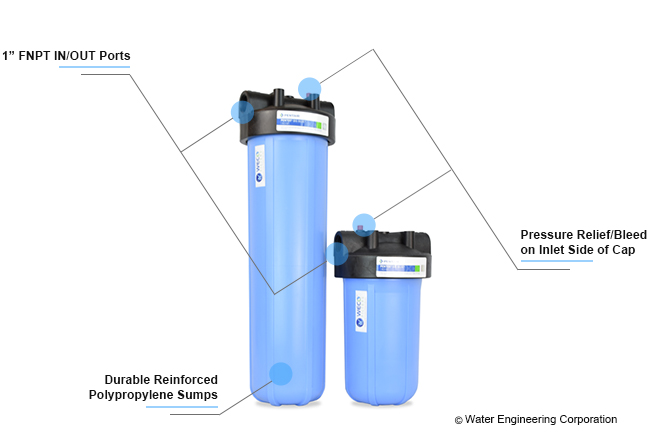 The Big Blue filter housing has 1" female NPT in and out connections that support high flow rates. The pressure relief button allows for easy air bleeding and cartridge change-outs.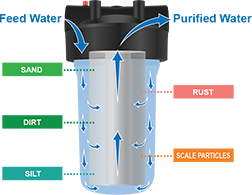 BB-10SED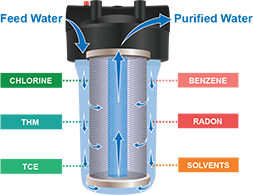 BB-10CAB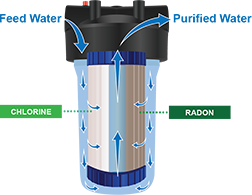 BB-10GAC
Big Blue filters remove a wide variety of contaminants from residential and commercial water supplies.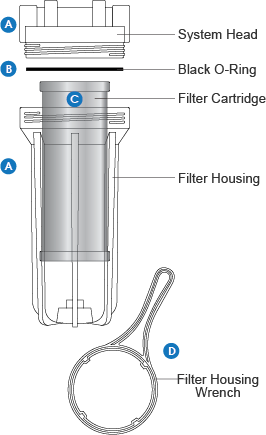 Parts & Hardware Included
A

ValveinHead Filter System

B

Black O-Ring

C

Filter Housing Wrench
Tools & Materials Required
Compression Fittings/Valves (not included)
Two Adjustable Wrenches
Pipe Wrench
Pipe Cutter or Hacksaw
Pan or Bucket
File
Pencil
Plumber's Tape
Silicone Grease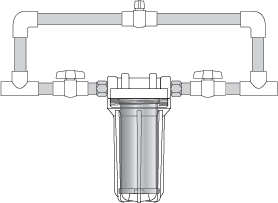 We recommend a 3-way bypass installation using 3 ball valves. The picture shows the unit in "Service" position. Valves on the left and the right are open; center valve is closed. Water flows through the filter.
To bypass, close the right and left valves and open the center. Water flows around the filter.
The bypass will work without the right or the left valve, but it's best to have both because it allows isolation of the filter completely from the house plumbing if desired.
| Filter Model | Replacement Cartridge |
| --- | --- |
| BB-10SED | WPX5BB97P |
| BB-10CAB | EP-BB |
| BB-10GAC | GAC-BB |
| BB-20SED | WPX100BB20P |
| BB-20CAB | CP-CB-45-E-2005 |
| BB20GAC | GAC-20BB |