Calculating Ion Exchange Water Softener Capacity
Our goal is to use water hardness data from your water analysis or field test kit and provide the most energy and water efficient system that meets the flow rate, resin capacity and available pressure parameters. Our calculator selects the smallest model that can provide adequate capacity to meet your daily water usage.
Water Hardness
Hardness is a measurable property of water brought about by the presence of calcium, magnesium ions and other multivalent metallic ions that can cause scale formation, soap curd, water spotting, and harshness in fabrics laundered in such water.
What Size Softener do I Need?
Use our water softener capacity calculator below to figure out the correct softener size. The calculator assumes your're on city water (zero iron because of chlorination) or well water with dissolved iron concentrations less than 1 ppm, where the softener will correct both hardness and iron stain issues. Treatment of dissolved iron concentrations of above 1 ppm should involve oxidizing technologies to maintain softener efficiency. Contact WECO Filters at 1 (888) 675-5187 if you have elevated iron levels in water. Commercial & industrial softeners available on request.
Number of People at Home:
Water Use per Person per Day:
GPG Hardness: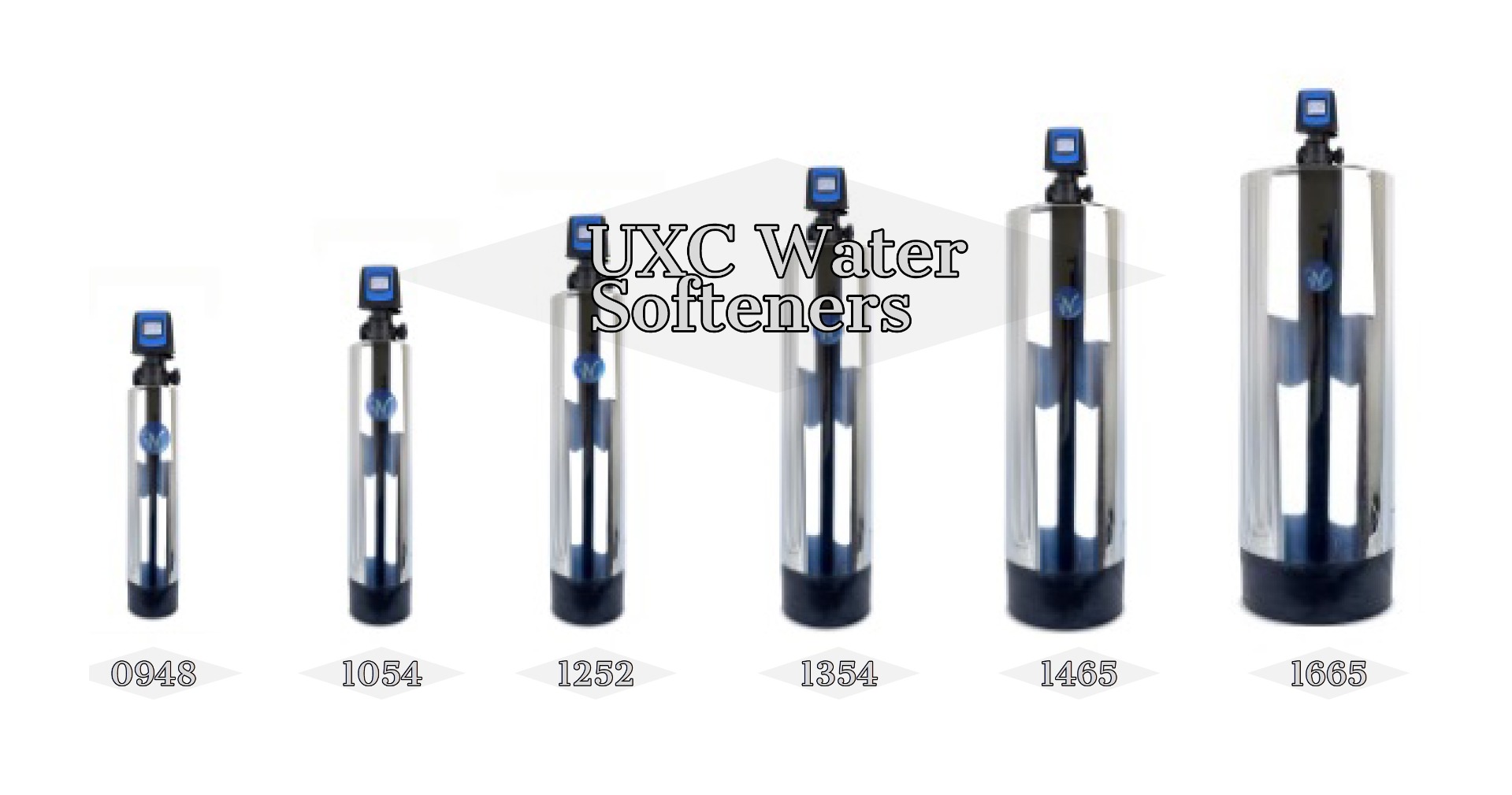 Specifications
Model
Capacity (grains)
Maximum Service Flow (gpm)
Tank Size Diameter (inches)
Minimum Backwash Rate (gpm)
UXC Resin Media
Bed Depth (Inches)
Weight (lbs)
Volume (cu. ft.)
UXC- 0948
24,000
6
9 x 48
4.5
13
85.5
1.0
UXC- 1054
36,000
8
10 x 54
5.6
14
114.0
1.5
UXC- 1252
48,000
9.6
12 x 52
8.0
16
171.0
2.0
UXC- 1354
60,000
10.3
13 x 54
9.0
17
222.0
2.5
UXC- 1465
84,000
13.1
14 x 65
10.9
18
285.0
3.5
UXC- 1665
108,000
17.1
16 x 65
14.3
20
339.0
4.5