WECO LOTUS-10000 Commercial Grade Reverse Osmosis Water Filter System
Be the first to review this product
S-150 Computer Controller
•LCD Display 2 lines x 20 characters for Monitoring and Control
•LED Status Light
•Dual TDS and Temperature Display
•Automatic Start-Up and Shut-Down based on the tank level.
•Automatic Feed Flush at every Shut-Down
•Low Pressure Shut-Down with Automatic Restart
•Fully Programmable and Adjustable
Pure-T Extra Low Energy Membranes
Stainless Steel Membrane Housings
Stainless Steel Feed Solenoid Valve
High Pressure Stainless Steel Pump
Powder Coated Stainless Steel Frame
Liquid Filled Filter In, Filter Out, Pump and Permeate Pressure Gauges
Stainless Steel Concentrate and Concentrate Recycle Needle Valves
Permeate, Concentrate and Recycle Acrylic Flow Meters
Built-In External Bladder Tank Port
Stainless Steel Permeate UV Light
Pure-T double O-Ring Filter Housings
Pure-T Sediment and Carbon Filters
Built-In Permeate High Pressure Switch
Low Pressure Pump Protection
WECO LOTUS-Series Reverse Osmosis Systems are designed for treating tap and well water supplies with flow rates ranging from 2,000 to 10,000 gallons per day, with minimal energy consumption and low maintenance and operation costs. They include a microprocessor controller with feed water and product water quality display, a low-pressure monitoring and alarm for the pump, a pre-treatment lockout feature, and tank-level inputs.
WECO LOTUS-Series Reverse Osmosis System features the highest quality components including 304L or 316 SS membrane housings, SS solenoid valve, dependable double O-ring housings, and high-efficiency, and extra-low-energy membrane elements that allow it to run at high recovery, offering low maintenance and operational costs.
WECO LOTUS-Series Reverse Osmosis Systems incorporate sediment pre-filtration and carbon filters for chlorine removal prior to the RO membranes. Each system comes fully assembled and ready to run out of the box.
*Please note each system is made to order. Lead time 8 to 10 weeks.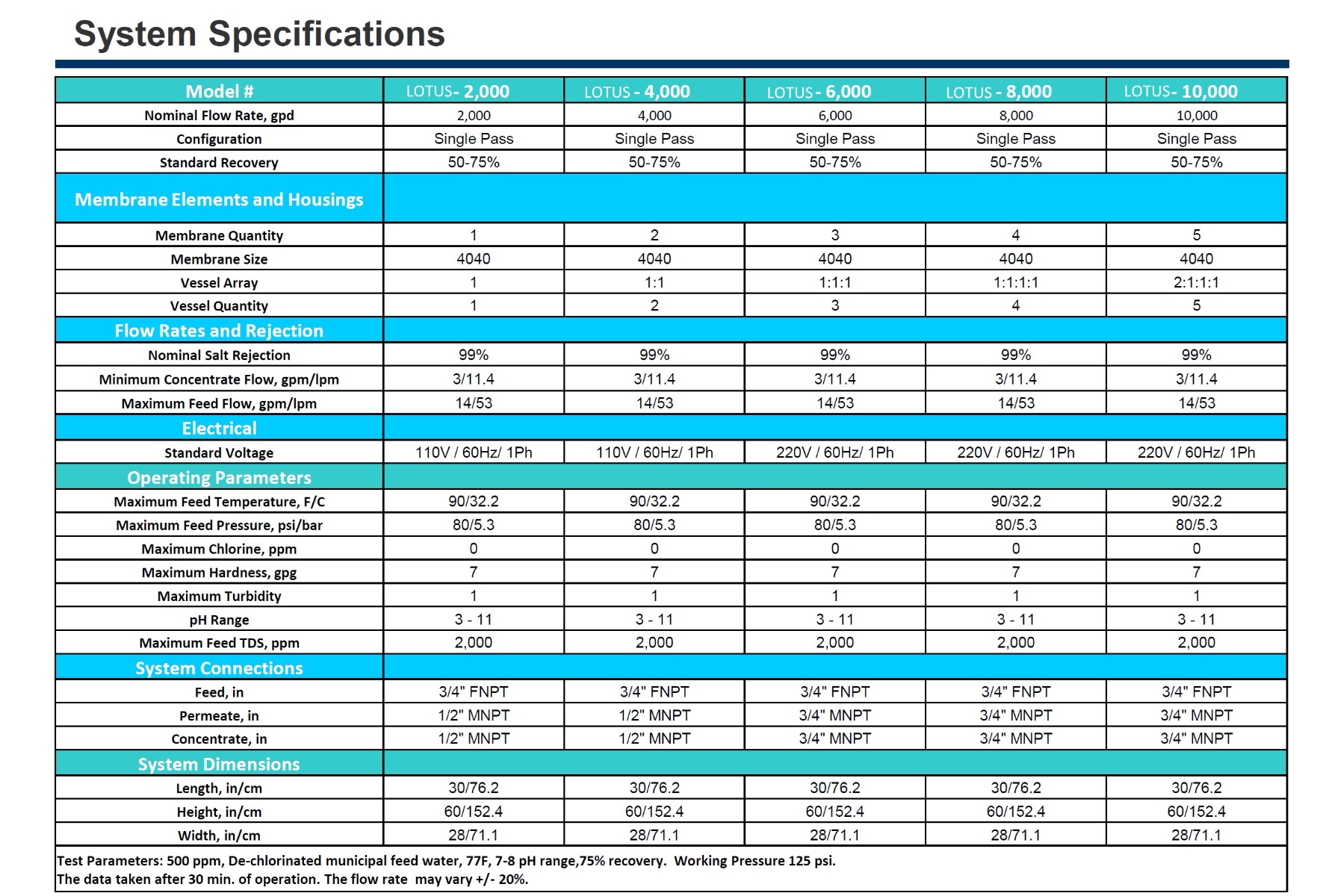 More Information

| | |
| --- | --- |
| UPC | 810388032124 |