Enpress Green Filtration Series High Capacity Cartridge - 1.25" 20 Micron Pleated - 0.2 Micron NanoAl Pleated Cartridge
Be the first to review this product
Dual Gradient Double Pleated Filters with electropositively charged NanoAl™ media.
Double Buna-N O-ring seals.
Filter Belly Bands.
PAC solution option.
Agion® antimicrobial technology.
Successfully remove contaminants from 1 to 0.2 microns.
Over traditional filtration include finer particle retention, higher flow rate and loading capacity, and lower pressure drop.
Ensures no bypass of contaminants and high chemical compatibility.
Prevent collapsing of filters under high flow or contaminant load applications.
Effective at reducing unwanted bad taste and odor from potable drinking water.
Provides built-in protection by working 24/7 resisting the growth of microbes.
Applications - Primary Filtration in lieu of microporous membranes, Make Up Water (particulate, microbial control), Polishing Filters (carbon fines, emulsified oil removal), RO Prefiltration (SDI reduction), Process Water (turbidity, particulate, colloidal suspensions), Waste Water (biologicals, proteins, dyes), Cooling Towers, Chill Water Loops (iron removal).
1.25" 20 Micron Pleated, .2 Micron NanoAl Pleated Cartridge.
Service flow >30 GPM. Peak flow >50 GPM.
The Green Filtration Series are electropositively charged dual gradient double pleated filtration solutions that successfully remove contaminants from 1 to 0.2 microns, featuring ENPRESS NanoAl™ media. The filters are designed with a larger 20 micron pre-filtration layer externally and the charged media internally, extending filtration level contamination and service life, while achieving high flow and low pressure drop. The filters will outperform competitive filtration solutions in all turbidity applications including insoluble scale, Fe3, bacterial iron slime, colloidal solids, silt, rust, and other particle filtration, resulting in higher water quality and longer life of the filtration system.
The Green Series of pleated filters features a thermally bonded blend of micro-glass fibers & cellulose, infused with nanoalumina fibers in a non-woven matrix that creates an electropositively charged depth filter media. When assembled into a pleated cartridge, our solution offers a unique combination of efficiency, capacity, flow rate, & low pressure drop that allow this nonwoven media to filter like a NF polymeric membrane, at levels unmatched in today's filtration marketplace. All filters feature the use of Agion® antimicrobial technology that provides built-in protection by working 24/7 resisting the growth of microbes.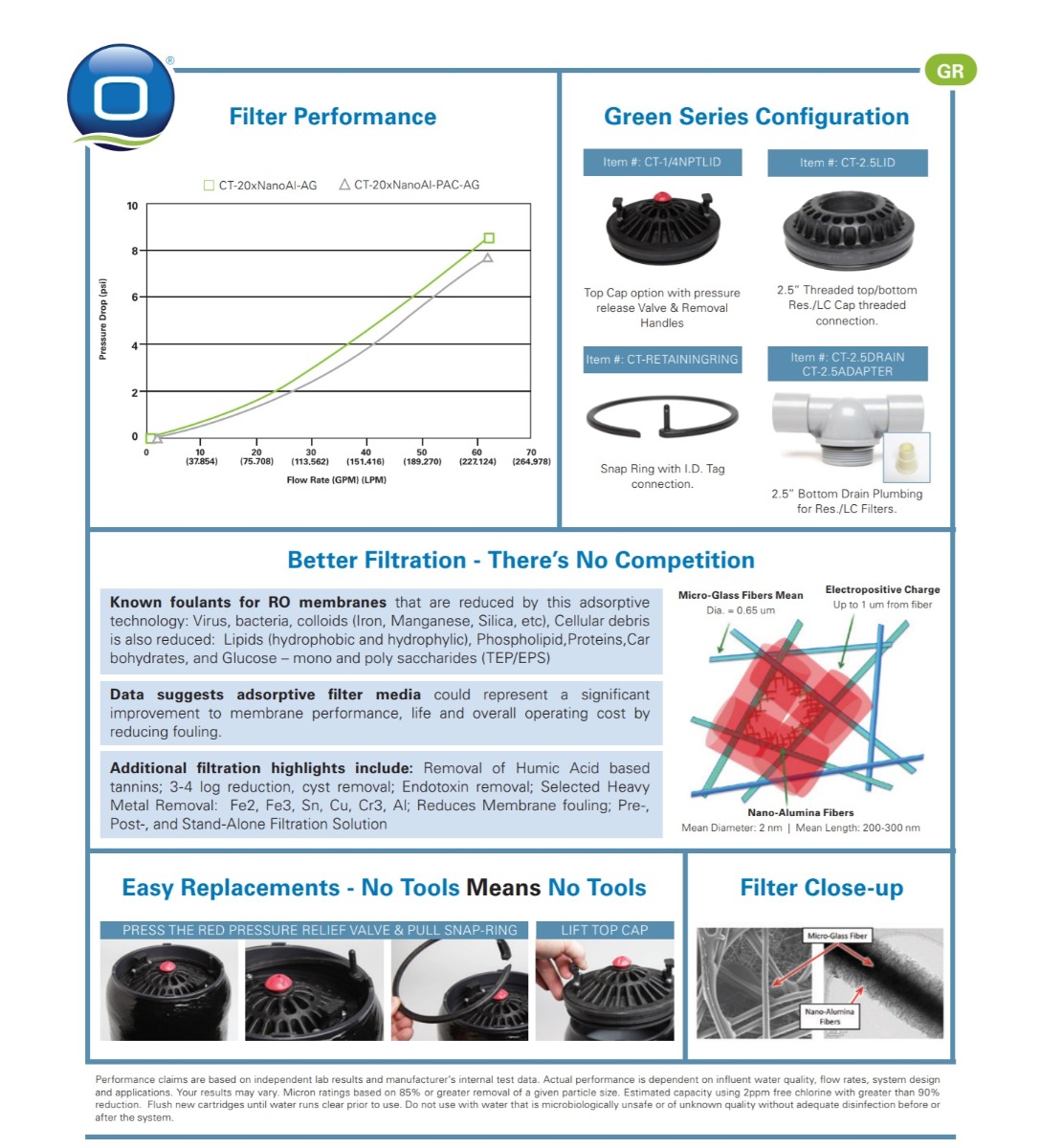 More Information

| | |
| --- | --- |
| UPC | 032733544889 |