High Capacity Specialty Filter Cartridge - Cation Softening Resin
Be the first to review this product
For use with ENP-CT-100BP high capacity filter tank system.
0.5 cuft media bottle Polyethylene construction.
Vortech® distributor plate.
Locking or Removable top cap.
Rings on bottom of bottle.
Double Buna-N O-ring seals.
Mid-Vortech® distributor plate option.
Extended service life and high capacity contaminant removal.
High chemical resistance Low pressure drop=high flow.
Up-flow or down-flow service and full utilization of the media bed.
Ease of handling Ensures no bypass of contaminants and high chemical compatibility.
Separation of multi-media configurations.
Ideal for Residential, Food/Beverage Service, Rental Fleets, Service DI Exchange, Plating solutions, Commercial and Industrial Applications Metal finishing, Oxidizing agents, Corrosive fluids, Electronics, Pre-RO, Process Water, Waste Water, Cooling Towers, Make-up Water, Polishing Filters, Primary Filtration Effective at reducing unwanted bad taste and odor, along with chlorine and chloramine taste and odor from potable drinking water
Rec. Flow ≈6 GPM. Capacity ≈1500 Gallons @ 10 GPG. Cation Softening Resin for Water Hardness Reduction.
The White Filtration Series is a unique and high capacity granular media bottle that allows incorporation of multiple media options and solutions to be used with the series. This filter series is a 0.5 ft3 empty bottle for filling of granular filtration media. This ONE - Water Filtration Simplified™ filter series is ideal for a wide range of Residential, Food Service, Commercial, and Industrial applications, and can be used for multiple applications from Service DI, POE for city or well-water installations, Rental Programs, Exchange systems, high-purity pre- or post-filtration applications, etc…the options, configurations, and solutions are endless.
The design also incorporates the patented Vortech® full distributor plate technology, providing uniform distribution and utilization of the media bed along with maximum efficiencies and service flow rates, giving system design maximum flexibility whether installed in up-flow or down-flow service. A removable Top Cap has a locking feature that can be used for limiting access to the internal medias by the end-user, and special Rings on the bottom of the bottle allow for ease of hanging of the cartridge for easy change-out of medias in applications like Service DI Exchange.
The White Series is also available in a Mid-Vortech® configuration that splits the cartridge chambers equally, to 0.25 ft3 per chamber, for separation and use of different medias of which increases the efficiency and usage of the media bed.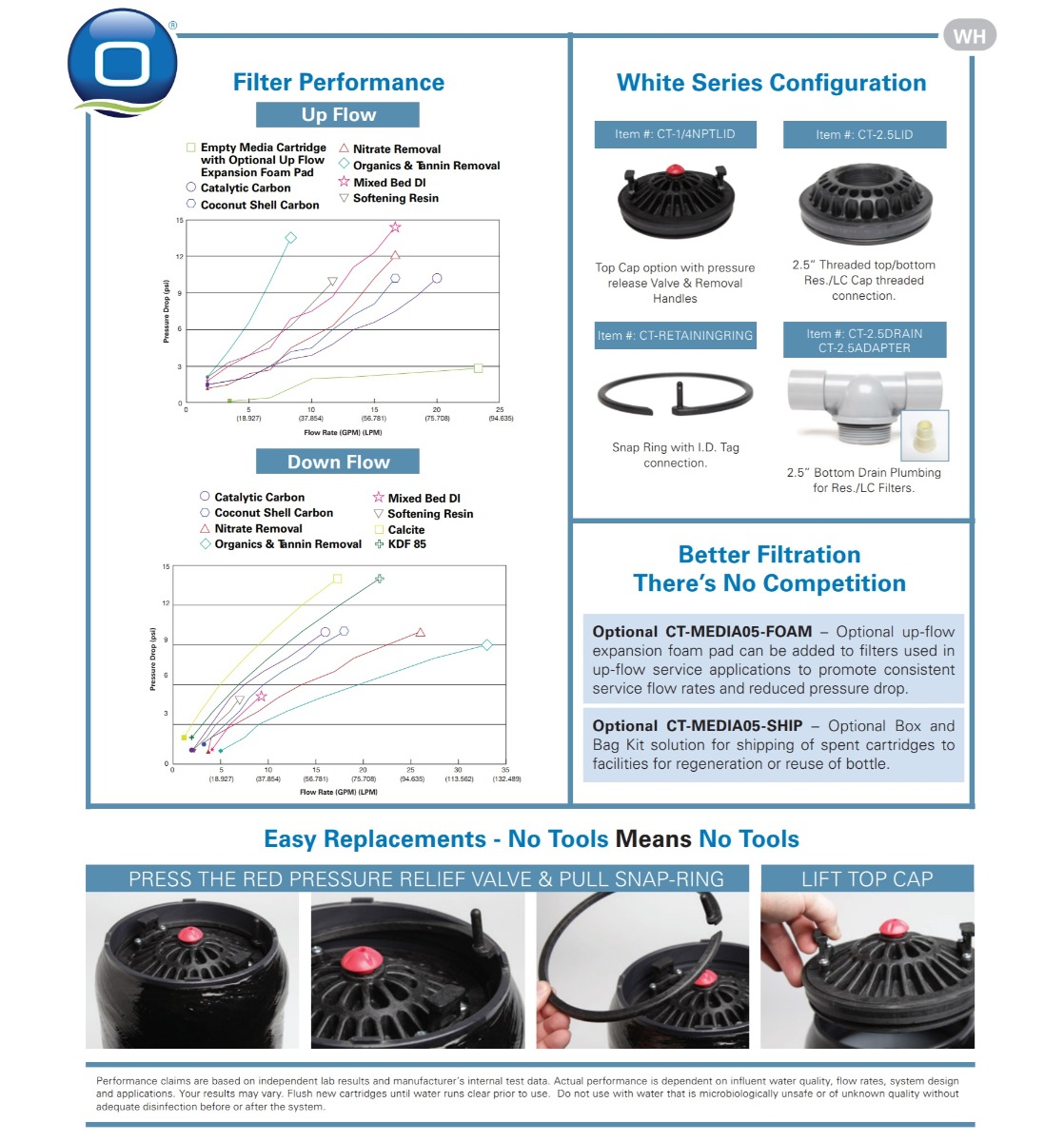 More Information

| | |
| --- | --- |
| UPC | 032733545367 |