WECO CALC-1252 Backwashing Filter with Calcite for pH Neutralization


Neutralizes acidic water and adjust pH
Prevents damage to plumbing, boilers and manufacturing equipment
Stops lead, copper and iron leaching from pipes and solder
Eliminates blue, green and red stains in sinks, tubs and showers
Improves water clarity, removes tubidity
Uses natural calcite minerals
WECO Backwashing Filter with Calcite for pH Control
The WECO Backwashing filter with calcite is a Point-Of-Entry (POE) pH-control system for municipal and well water supplies. Calcite is natural crystalline calcium carbonate. It is the main mineral component in limestone, chalk, and marble. For acidic water treatment, calcite is crushed and screened to create a loose media suitable for use in a backwash filter. The hard composition and irregular granular shape of the calcite particles provides an extensive surface area that reacts with the acidic water. Acids are neutralized by reacting with the carbonates in calcite. Calcite self-limits the pH increase, only raising the pH enough to overcome acidity. The granular calcite also traps suspended solids in the media bed and reduces turbidity. The calcite neutralization process adds some calcium hardness to the water. Therefore, calcite neutralization treatment should be applied ahead of water softening. Calcite will also reduce some ferric and ferrous iron in the water supply.
Neutralizes acidic water and adjust pH
Prevents damage to plumbing, boilers and manufacturing equipment
Stops lead, copper and iron leaching from pipes and solder
Eliminates blue, green and red stains in sinks, tubs and showers
Improves water clarity, removes tubidity
Uses natural calcite minerals
Acidic water causes problems with manufacturing processes, commercial food preparation, beverage formulation and leaching of lead and heavy metals like copper from pipes. For homeowners, building managers and health institutions, acid water causes blue and green staining in sinks, toilets and bathtubs due to copper leaching. Iron pipes will react with acid water and cause red stains. The metals also give the water a metallic taste. Residential and commercial laundries can experience fabric staining and customer complaints from acidic water. Corrosion of plastic PVC plumbing components is also possible resulting in the release of harmful amounts of vinyl chloride into drinking water. Acidic water also causes leaks in plumbing by slowly dissolving the inside of the pipes and fittings.
Several sizes of this filter are available. Please consult with WECO Technical Support for assistance in selecting the proper size filter to meet your water purification requirements.
The WECO backwashing filter consists of a Structural Poly Glass™ Pressure tank and a Fleck 5810 XTR2 touch screen controller. Structural Poly Glass™ is the ideal filter media tank for residential and industrial water filtration and conditioning duty. The pressure tank has an attractive stainless-steel outer jacket for good looks, and durability. This combination provides unmatched strength and chemical resistance for years of trouble-free service. The slim diameter makes installation easy in tight locations and does not take up a lot of floor space. The Fleck XTR2 controller is constructed of a fiber-reinforced polymer valve body for superior strength and durability. It is non-corrosive and UV-resistant. The controller uses an optical sensor for precision cycle positioning. The controller is easily programmed and user-friendly due to detailed screen descriptions, color LCD display, and familiar icons. The intuitive navigation is easy with a large LCD screen. The controller has an internal memory that remembers your settings during a power failure. It has a convenient Vacation Mode to save water when not in use. The password lock-out prevents unauthorized users from changing the settings. An audible alarm sounds if there is a controller error. Diagnostics can be downloaded via USB should the need arise. The Fleck XTR2 controller has feature rich diagnostics including:
Current Flow Rate
Peak Flow Rate (can be reset)
Totalizer (can be reset)
Last Regeneration
Daily usage for last four weeks
Software Version
Number of Regenerations
Regeneration Interval
Usage since last regeneration
Last program change
Water enters the top of the tank through the Fleck control valve and passes downward through the calcite filter media, which removes impurities. The WECO backwashing filter will clean itself periodically by rinsing away impurities it has filtered from water. When the calcite filter medium neutralizes acids, it slowly gets smaller. The control valve automatically starts the backwash process, rinsing away fines and collected particulate matter. The backwash procedure is an operation where water passes backward through the filter media at a fast flow rate. It enters the tank at the bottom through the riser tube, then flows upward through the filter medium, exiting at the control valve and sent to waste. The rapid, turbulent upward waterflow, in addition to flushing away particulate matter, loosens and resettles the media bed, preparing it for another filtration cycle. The treated and conditioned water enters the riser tube at the bottom of the mineral tank, passing upward and exiting the filter through the control valve.
Filter Media Certifications:
Controller Certifications:
Tested and Certified by the WQA to NSF/ANSI Standard 44 for Water Softener Performance.
Tested and Certified by the WQA to NSF/ANSI Standard 372 for Lead Free Compliance.
NSF Tank Certifications:
Safety factor: 4:1
Minimum burst at 600 psi
Tested to 100,000 cycles without leakage
Residential tanks 6"-16" in diameter are Certified to NSF 44
Maximum operating pressure: 150 psi
Maximum operating temperature: 120° F
Vessels tested and certified by the Water Quality Association (WQA) to NSF/ANSI Std. 44 for material safety and structural integrity requirements and Std. 372 for low lead compliance.
VALVE SPECIFICATIONS
Valve Material Fiber-reinforced polymer
Inlet/Outlet 1"
Cycles 3-5
FLOW RATES (50 PSI INLET) – VALVE ALONE
Continuous (15 psi drop) 36 GPM
Cv (flow at 1 psi drop) 5.4
Max. Backwash (25 psi drop) 28 GPM
REGENERATION
Downflow/Upflow Both
Adjustable Cycles Yes
Time Available XTR2: 0-240 minutes per cycle
METER INFORMATION
Meter Accuracy .25 - 15 GPM +/-5%
Meter Capacity Range (gal.) LXT: volume calculated XTR2: 1-99,999,999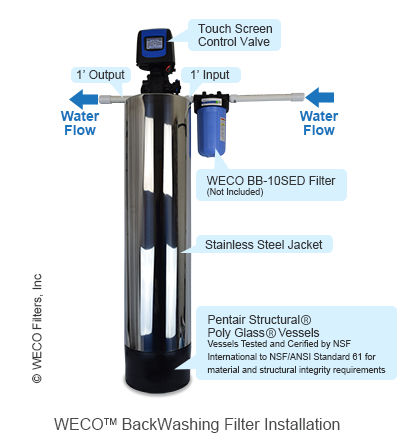 Specifications
Model
Maximum Service Flow (gpm)
Tank Size Diameter (inches)
Minimum Backwash Rate (gpm)
Calcite Media
Bed Depth (Inches)
Weight (lbs)
Volume (cu. ft.)
CALC- 0635
3
6 x 35
4.0
10
28.5
0.16
CALC- 0735
4
7 x 35
4.0
11
42.8
0.25
CALC- 0840
5.5
8 x 40
4.0
12
57.0
0.60
CALC- 0948
6
9 x 48
4.5
13
85.5
1.0
CALC- 1054
8
10 x 54
5.6
14
114.0
1.5
CALC- 1252
9.6
12 x 52
8.0
16
171.0
2.0
CALC- 1354
10.3
13 x 54
9.0
17
222.0
2.5
CALC- 1465
13.1
14 x 65
10.9
18
285.0
3.5
CALC- 1665
17.1
16 x 65
14.3
20
339.0
4.5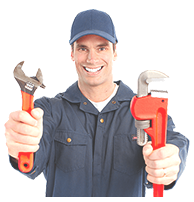 Professional Plumbing Support recommended for Installation
Water pressure can cause leaks and damage the surrounding building or fixture if not properly installed. User mustcheck all fittings for tightness. WECO assumes no responsibility for water damage due to leaks.

More Information
UPC
810388030267
Specifications

Model
Maximum Service Flow (gpm)
Tank Size Diameter (inches)
Minimum Backwash Rate (gpm)
A300 Process Media
Bed depth (inches)
Weight (lbs)
Volume (cu. ft.)
A300E - 0635
3
6 x 35
6
10
28.5
0.16
A300E - 0735
4
7 x 35
8
11
42.8
0.25
A3000E - 0840
5.5
8 x 40
10
12
57.0
0.33
A300E - 0948
6
9 x 48
12
13
85.5
0.50
A300E - 1054
8
10 x 54
16
14
114.0
0.66
A300E - 1252
11
12 x 52
22
16
171.0
1.04
A300E - 1354
13
13 x 54
26
17
222.0
1.30
A300E - 1465
15
14 x 65
30
18
285.0
1.60
A300E - 1665
20
16 x 65
40
20
339.0
2.33

QA Image
PDF Guide

Control Head Installation

A300E Process Medium

Recommended Setup